The Thanksgiving holiday is a time to gather with loved ones, indulge in your favorite foods, and take a moment to reflect on gratitude. As students depart campus for Thanksgiving break, which runs from Nov. 22 through Nov. 26, they take a moment to reflect on the people and places they appreciate and share some of the favorite holiday traditions that they look forward to every season. 
Students shared that they are grateful for the weather in South Florida, friends, good health, being at the University, and most of all, they are very appreciative of their families.
---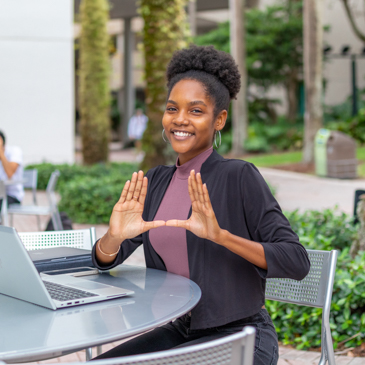 Nzinga Barnet—a junior from Bradenton, Florida, studying communications—loves spending her Thanksgiving holiday preparing a massive meal with her family. 
"I can't wait to cook with my mom. We make macaroni and cheese and turkey. I can't wait to make all of the different dishes and sit down to eat," she said. 
---
Brady Taylor, a second-year law student from Danville, Illinois, won't be partaking in his favorite Thanksgiving traditions this year—for good reason. This year, his family will be making the trip from Illinois down to sunny South Florida for the holiday. 
"It'll be a nice treat to have my family here with me," Taylor said. "It'll definitely be weird to not be at my parents' house with the rest of the family." 
---
Every Thanksgiving, Maria Maltez, a master's-degree student in business analytics from Nicaragua, finds herself in a new city. Her favorite tradition is to pack her bags and take a flight for a quick trip. 
"I actually do love traveling," Maltez said. "I travel every year for Thanksgiving and this year I'll be going to Washington, D.C." 
---
Thanksgiving break for Marcel van Hemert—a sophomore from Miami who is studying international relations—means taking the time to catch up on rest. So much so, his favorite tradition is to watch the Macy's Thanksgiving Day Parade reruns. 
"My favorite Thanksgiving Day tradition is waking up around 10 o'clock in the morning and watching the rerun of the parade, and then the rerun of the Westminster Kennel Club Dog Show," van Hemert said, noting that his border collies are big fans of the show. "Border collies never win, but maybe this is their year."
---
Dija Thomas, a senior from Miami who is studying public relations, said that her favorite part about the holiday is her family's secret recipes. 

"My favorite tradition is how Thanksgiving meals have lot of foods that wouldn't typically be found at a regular dinner," Thomas said. "My family has a special cranberry sauce and green bean casserole that I would like to eat again."
---
Erick Wilson, a first-year law student from Miami, only looks forward to one decadent dessert every Thanksgiving.
"We don't have a typical tradition, except for my mom's apple pie," Wilson said. "My mom's apple pie is absolutely the best."
---