Art Basel is back and ready to showcase the best of the arts from all over the world here in South Florida. The University of Miami is offering a variety of events in this year's lineup, including a live lecture on campus, a concert at the Adrienne Arsht Center for the Performing Arts, and an exhibit in the heart of it all—Wynwood.
Saturday, Dec. 4, 10 a.m.
Editors Note, Dec. 3, 2021: The Dec. 4 morning event with Samuel Levi Jones will be rescheduled. 
As part of Miami Art Week 2021, the Lowe Art Museum will host artist Samuel Levi Jones in conversation with alumnus Dennis Scholl at the University of Miami's Lakeside Village Expo Hall.
Trained as a photographer and multidisciplinary artist, Samuel Levi Jones deconstructs and manipulates books, such as encyclopedias and textbooks, to critically explore systems of knowledge and power.
A 1981 graduate of the School of Law, Scholl is the president and CEO of Oolite Arts, a 35-year-old organization dedicated to supporting visual artists in Miami. He is also a collector of contemporary art, who, with his wife Debra, has built one of the largest private collections of Aboriginal Australian art in the United States. 
---
Saturday, Dec. 4, 8 p.m.
The Adrienne Arsht Center for the Performing Arts, the Frost School of Music, and the Lowe Art Museum co-present "Pictures at an Exhibition," featuring the Frost Symphony Orchestra conducted by world-renowned maestro Gerard Schwarz.
"The Frost School of Music is excited to be presenting this important composition in collaboration with the Lowe Art Museum and the Adrienne Arsht Center, and particularly excited it will coincide with one of Miami's most important events of the season, Art Basel," said Schwarz, distinguished professor of music, conducting, and orchestral studies and music director of the Frost Symphony. "This promises to be a thrilling evening."
Jill Deupi, Beaux Arts director and chief curator at the Lowe Art Museum, said the collaboration doesn't just highlight two of the jewels in the University of Miami's arts crown. "It is also a forceful reminder of the capacity of music and the painted image to ground us, to move us, and to bring us closer to ourselves and to one another," Deupi said, adding, "The words of the British philosopher and writer Roger Scurton are fitting here: 'Art and music shine a light of meaning on ordinary life, and through them we are able to confront the things that trouble us and to find consolation and peace in their presence.'"
Purchase tickets in advance. Use the following promo codes for discounted admission:
Students receive 50% off with the code: UMSTUDENT
Faculty and staff receive 20% off with the code: UMSTAFF
Alumni receive 15% off with the code: UMALUM
---
Saturday, Dec. 4, 6-9 p.m.
An opening reception hosted by the Department of Art and Art History presents "New Works," featuring artwork of students earning their master degrees in fine arts. Works on display at the University of Miami Gallery in Wynwood include ceramics, photography, paintings, and more.
Get to know the featured artists below:
Mariana Espindola, digital photography
"I get inspired by my everyday life and things that I experienced, but this new series that I'm showing at the exhibition is all about being back in Miami after six years away. The images are super colorful and vibrant just like Miami, and it correlates directly to my mood of being super happy to be here and continue my studies as an artist.
"These are actually images of the lifeguard houses in Miami Beach but the way I decided to photograph I left very open to the viewer to create their own assumptions on what it is. Some people think it is a boat; others don't have a clue what it is. This is a series about color and shape."
---
Catherine Kramer, printmaking
"The piece I am displaying at the gallery is lithography. It gives me a lot of fulfillment to create art and be able to share my perspective through imagery. The image is of a fossilized flounder fish set in front of a rocky background—in a nod to the 'fish out of water' saying." 
---
Rachel Alderton, printmaking
"In my art I explore the mystery of the human condition through portraiture and prints. By using cardboard and ink on plexiglass, I study the surfaces, posture, expression, and language of the human body to better understand each individual I depict.
"My background and love of psychology fuels my fascination in understanding humans, as well as how we age. Necessary for human growth, senescence is an inevitable process that comes with age where our cells stop dividing and growing, but do not die. It is a process of growing old that most organisms experience. By creating these portraits, I hope to evoke both curiosity and empathy with each viewer."
---
Charlisa Montrope, printmaking
"My work employs various printmaking techniques to build culturally specific imagery through map-making that reference my family's immigration from St. Lucia to Miami. I seek to create a hybrid visual language combining traditional and digital methodologies in contemporary printmaking, heavily layering color, and form through collage techniques.
"Gelliplate printing, silkscreen, digital printing, and traditional drawing processes are layered and worked over with soft pastel, air brushing, and acrylic painting. This multitude of materials and processes is used to reflect the multiculturalism I experience as a Caribbean immigrant now based in Miami, while describing my past experiences and ongoing relationship to the island of St. Lucia.
"Mapmaking has become foundational to my practice, supplemented by culturally specific motifs such as the pattern and colors of Madras fabric, which is a Creole textile used during the celebration of Jounen Kwéyòl (National Creole Day). Conflating maps of the island drawn through recent visits to St. Lucia with maps of areas I frequent in Miami, my work unfolds into large-scale, colorful, linear abstractions evoking a sense of place but also a sense of dislocation, not of fully belonging to either place. They create a tapestry of my past, my present, and possibly a map to my future."
---
Jessica Dehen, mixed media
"While my work is void of any representational imagery, I am deeply inspired by the colors and climate (both natural and urban) of South Florida. Many of my works have a bold color palette that parallels the lens through which I perceive the light and saturation of my surroundings.
"My relationship to color and light inspires my creativity. I have such an intrinsic response to certain marriages of color that often when I experience a color that I'm drawn to (either in nature, or a sunset, in a friend's pair of shoes, or on a billboard that I see driving down the street) I feel compelled to make something that integrates that color. There are times where that color becomes the primary focus of the work and other times that it serves as just a 'starting point,' where it eventually begins to form relationships with the other colors and gestural marks that I apply during the painting process."
---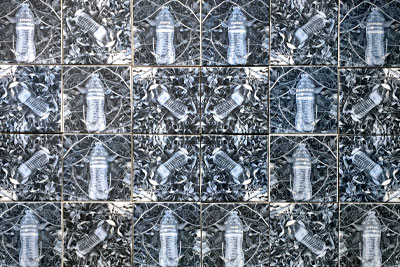 Kim Bauldree, ceramic art
"My background is in documentary film and photography and I find that clay provides a more interesting surface for my images than paper. Making art, whether it is 2-D or 3-D, is how I process thoughts and observations of the world around me. And, as I'm a fairly shy person, art is the voice where I feel most expressive.
"The piece I'm showing for Basel this year is a tile composition titled, "My Water is…" The composition is made up of two photographs I made of abandoned water bottles.  The images are replicated, rotated, and flipped to create a kaleidoscopic effect. I altered the bottle labels in Photoshop to feature words that have positive and negative associations we have with bottled water. My inspiration for this piece was the ubiquity of the disposable plastic water bottle and the complications of water withdrawal from the aquifer. While plastic waste is the visible symptom of the problem, corporations profiting from strained water sources is a more sinister issue with deeper, cascading effects on the environment." 
---
Nadine Hall, installation art
"I create works inspired by memories of my childhood experiences and family legacies that are connected to the larger histories of the Black experience.  A signature commitment has been taking ordinary objects, or familiar narratives and presenting them within new contexts. My artwork is then multilayered, non-idealistic, (auto)biographic, and imbued with physical and metaphorical symbols. I have submitted two sets of photographs that are triptychs for the New Works UMFA Art Basel exhibition: 'Living with White,' and 'Still Life.' Created within the frameworks of semiotics and iconography, both sets of photographs illustrate images of subtle violence.
"These images are part of a larger body of work, which initially began as my final project for an art history class. They consider the complexities of American racism and its strident continuation through visual representation, iconography, and stereotypes. With this work, I emphasize another type of systemic violence, one that has been imbued in our psyche and also nuanced by pop culture. This violence is not readily apparent, but is instead contained within the history associated with the representation of the objects photographed, and the responses they generate in real life. My intent is to evoke a psychological engagement with this body of work through our associations with these relics, their symbolic significance, and how they articulate notions of value for Black lives, white superiority, and (post)plantation legacies/ideals. On close observation, these images also point us to the fractured, fallacious, and inflated premise of white ideology on which these notions were invented."
"New Works" will be on view until Jan. 14, 2022, at the University of Miami Gallery located inside the Wynwood Building, 2750 N.W. 3rd Avenue, Suite 4, Miami, FL 33127. Gallery hours are Wednesday, Thursday, and Friday, 10 a.m. to 4 p.m. or by prior appointment. As hours are subject to change, call (305) 284-3161 to confirm times prior to visiting.
Through Dec. 5
Tapped by Lexus to create an exhibit for the luxury automaker's LF-Z carbon-neutral electric car, School of Architecture assistant professor Germane Barnes created an installation that will highlight Design Miami/. Read more about the installation.
---