Three extraordinary individuals who have left indelible marks on the world of music, the legal profession, and the future of education will each share their advice at the University of Miami's fall commencement ceremonies on Friday, Dec. 17, when more than 1,100 students will cross the Watsco Center stage.
Gerard Schwarz, an internationally acclaimed composer and conductor who joined the University faculty in 2019, will speak at the 8:30 a.m. ceremony for undergraduate and graduate students in the School of Architecture, Patti and Allan Herbert Business School, School of Communication, School of Education and Human Development, and Phillip and Patricia Frost School of Music.
Marilyn Holifield, a trailblazing attorney who has spent her life paving the path to equality, tolerance, and opportunity for all, will address the 1 p.m. ceremony for bachelor's-, master's-, and doctoral-degree candidates from the College of Engineering, School of Law, Rosenstiel School of Marine and Atmospheric Science, Leonard M. Miller School of Medicine, and School of Nursing and Health Studies. 
And John Sexton, president emeritus of New York University, whose bold leadership expanded the institution's stature and reach across the globe, will speak at the 5:30 p.m. ceremony for undergraduate and graduate students from the College of Arts and Sciences, Division of Continuing and International Education, and the Graduate School. 
To maintain social distancing protocols established for the ongoing pandemic, students will be limited to six guests each but, as always, the ceremonies will be livestreamed, with links available.   
Dedicated to the audience
A gifted composer, conductor, arranger, and educator, Schwarz is known for his moving performances, innovative programming, extensive catalog of recordings, and dedication to growing audiences everywhere. He serves as the music director of the All-Star Orchestra, Eastern Music Festival, Palm Beach Symphony, Mozart Orchestra of New York, and the Frost Symphony Orchestra at the Frost School of Music, which he joined in fall 2019 as distinguished professor of music, conducting, and orchestral studies.
He is also conductor emeritus of the Mostly Mozart Festival and conductor laureate of the Seattle Symphony Orchestra—where he spent 26 years and established himself as one of the world's greatest conductors and the foremost champion of contemporary American symphonic music.
The son of two doctors, he grew up in Weehawken, N.J., in a Jewish home filled with music. His maternal grandparents perished in the Holocaust, but his parents fled their native Austria for Switzerland, where they completed their medical studies before immigrating to the United States. At age 5, their son began playing the piano—until he discovered the trumpet two years later. 
A graduate of New York's Performing School of the Arts and The Juilliard School, he joined the acclaimed New York Philharmonic as co-principal trumpet in 1972 but left to pursue conducting and musical directing. Before taking the helm of the Seattle Symphony in 1985, Schwarz founded the New York Chamber Symphony and directed the Mostly Mozart Festival at Lincoln Center. He has also served as music director of the Royal Liverpool Philharmonic and Los Angeles Chamber Orchestra; as artistic advisor to the Tokyo Philharmonic; and as guest conductor with the San Francisco, Washington National, and Seattle Opera companies.
Over his nearly five decades on stage, Schwarz has received hundreds of honors, including Emmy Awards, Grammy nominations, and ASCAP Awards. Next week, he'll receive one more—the University of Miami President's Medal for his distinguished accomplishments in the field of music.
Fought for equality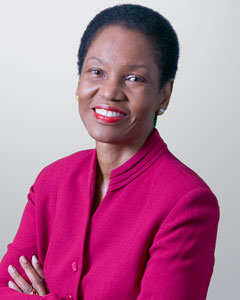 Holifield is a widely admired litigator who represents corporate clients for the Miami-based international law firm, Holland & Knight LLP. But as one of three Black students to desegregate Leon High School in Tallahassee, Florida, in 1963, she was treated with vile contempt.
Rather than use her name, her classmates called her the N-word and, one morning, pelted her with raw eggs as she stepped off the bus. Distraught but undaunted, Holifield, the daughter of a nurse and a scientist, went home, changed her clothes, and returned to school, determined to earn her diploma and fight for equality, tolerance, and diversity. 
One of a few Black students at both Swarthmore College and Harvard Law School, she co-founded the Swarthmore Afro-American Student Society and edited the Harvard Civil Rights-Civil Liberties Law Review. At the NAACP Legal Defense and Educational Fund in New York City, she worked on a landmark prison-reform case that improved treatment of Black inmates and a discrimination suit against Pullman Standard, which secured better conditions for Black rail workers.
She also served as general counsel for the New York State Division for Youth and clerked for a federal appellate judge before Holland & Knight recruited her as its first Black associate. Five years later, the firm elevated Holifield to partner—the first black woman to hold that title at a major law firm in Florida.
Thirty-five years later, Holifield still litigates, but also devotes considerable energy to mentoring young lawyers, supporting art from the African diaspora, and lending her counsel to three major educational institutions. The co-founder of the Miami Museum of Contemporary Art of the African Diaspora, she is a member of the University of Miami Board of Trustees, the Harvard University Board of Overseers, and Swarthmore's Board of Managers. She has received numerous honors for her law practice, professionalism, and civic engagement. 
From debate champion to university president
As a student at Fordham University, Sexton didn't seem bound for one of the most prestigious posts in academia. He spent more time coaching a high-school debate team than attending classes for his bach­elor's and master's degrees.
But after teaching for a decade at a small Catholic college, he earned his doctorate in religion from Fordham and was admitted to Harvard Law School, where his course was set. After graduating magna cum laude and clerking for two federal judges and the chief justice of the U.S. Supreme Court, he began teaching at New York University (NYU) School of Law. Within seven years, the former high school national debate champion was dean of the law school, a post he held for 14 years before ascending to the presidency of NYU in 2002.
Over his 14 years at the helm, NYU's stature grew dramatically—and globally. The arts and sciences faculty ballooned. The university's rankings, applications, and admission test scores soared. So, too, did its endowment and reach. Sexton led NYU through what was then the most successful fundraising campaign in U.S. higher edu­cation and molded the institution into an influencer of positive globalization. Today, his Global Network University connects NYU to 16 international academic centers on six continents. 
While carrying out his presidential duties, he taught a handful of courses, including "Baseball as a Road to God," a popular class about two seemingly unrelated subjects. Next year, his best-selling book of the same title is slated to become the basis of Major League Baseball's first full-length documentary.
A fellow of the American Academy of Arts and Sciences and a member of the Council on Foreign Relations, Sexton serves on the board of the Institute of International Education and chairs the President's Council of the University of the People, an accredited online university serving more refugees and displaced persons than the rest of U.S. higher education combined. He has received numerous honors, and next week will receive another—an honorary Doctor of Humane Letters from the University.
—Michael R. Malone, Janette Neuwahl Tannen, and Barbara Gutierrez contributed to this report.
---