It's a bird.
It's a plane.
Wait, it can't be a bird. Birds are not real. 
"Birds Aren't Real" is a national campaign that has become a Gen Z social media sensation that alleges that most birds in North America were killed and replaced with drones or other surveillance objects by the government.
But what Birds Aren't Real truly is, campaign organizers say, is a parody social movement with a purpose. According to a New York Times article, "In a post-truth world dominated by online conspiracy theories, young people have coalesced around the effort to thumb their noses at, fight, and poke fun at misinformation."
The superman behind this campaign is 23-year-old Peter McIndoe, a college dropout from the University of Arkansas, who came up with the idea in 2017 and spends many hours traveling the country promoting the campaign.
Birds Aren't Real is all over TikTok, YouTube, Reddit, and Instagram. Billboards are up in several states, and the so-called conspiracy theory has sparked its own merchandise, ranging from T-shirts to baseball caps.
Even though the social movement is a parody, at times McIndoe has given the impression in interviews on YouTube that he truly believes in the theory.
But in an interview with the New York Times in December, McIndoe admitted that "Dealing in the world of misinformation for the past few years, we've been really conscious of the line we walk. The idea is meant to be so preposterous, but we make sure nothing we're saying is too realistic," he said. "A lot of people in our generation feel the lunacy in all this, and Birds Aren't Real has been a way for people to process that," he added.
"It is a sign of our times that we have social media networks which allow for people to make up their own parodies and create content that goes viral," said Joseph Uscinski, professor of political science at the University of Miami and an expert on conspiracy theories.
He does not believe that the intent of the campaign—to make fun of conspiracy theories and unmask them as not real—will be effective.
"This shows that anyone can make up a conspiracy theory and put it online and therefore we should be skeptical of them," he said.
Although "most people will find the 'Birds Aren't Real' as ridiculous" and indicative that conspiracy theories should be treated skeptically, others will not be so easily dissuaded, Uscinski said.
"Most people who believe in conspiracy theories will say 'oh yeah, conspiracy theories are dumb and conspiracy theorists are dumb, but my conspiracy theories are true,' " he pointed out.
University senior Angel Carrasquillo knows that birds are real. He is president of the UM Amateur Ornithological Society, a group of 80 bird-watchers, who go out every other week to catch a glimpse of those feathered creatures. They do so on campus, in nearby parks, and in the Florida Everglades.
In his time looking for birds, Carrasquillo has seen 70 different species. The painted bunting is the rarest one he has spotted.
"If birds were drones, they would be easier to spot," he said. "Drones move in predictable ways. Birds are unpredictable."
A few other members of the University community share their take on the Birds Aren't Real campaign.
---
Charlotte Klein, a first-year student studying health science on a pre-med track.
I think it is funny. Although I don't know much about it, I do know that there are many conspiracy theories out there and people love to pour their hearts into them. This is one of them. It has gone viral.
People are trying to do it with good intentions. They are making up this crazy theory that Birds Aren't Real and I see them every day. I don't follow any conspiracy theory.
---
Annissa Raymond Malcolm, a junior studying public health and gender studies.
I have heard of the conspiracy theory on Twitter that people think the government has implanted [birds] and they are fake.
I don't believe it, but sometimes when I see a bird doing something weird I say 'What is going on?' I don't think the government put birds out there. I feel like depending on how deep someone believes in conspiracy theories, they may not think it is absurd but there is a lot of distrust in the government and there is a history of that so that they have a right to believe that the government is not telling them the truth.
---
Holden Seward, a first-year student studying classical voice performance in the Frost School of Music.
I know that this conspiracy theory was big a few years ago. It was really big on Instagram and Reddit, and I followed the Instagram account for a while. I see it as a funny thing that you say to your friends. They said that there was some piece of evidence that you never see birds at night. But I personally do not believe that the theory is real, and I don't think any of my friends do either. A lot of people who are engrossed in political theories will not be dissuaded by something like this.
---
Bishara Randolph, a senior studying public health.
I think it is interesting, but I do believe birds are real. I also think if some birds were cameras or some kind of device run by the government, we would not know. So it is interesting to think about because one cannot go and catch a bird and check them out.
There is a certain amount of people that are likely to believe in a conspiracy theory and they would not believe this is absurd because they have a certain level of distrust in factual information. If you don't trust anything then you can believe in anything; it is up to your own discretion.
---
Gabriela Barger, a first-year student enrolled in the School of Nursing and Health Studies.
I think it is kind of funny. I do see a lot of birds. But to say that they work for the government—I don't really believe that. I have also seen a meme that says that "The Birds Work for The Bourgeoisie." I am not sure that people who believe in theories would get that it is a parody.
---
Victoria Fuentes, sophomore, majoring in finance and marketing with a minor in media management.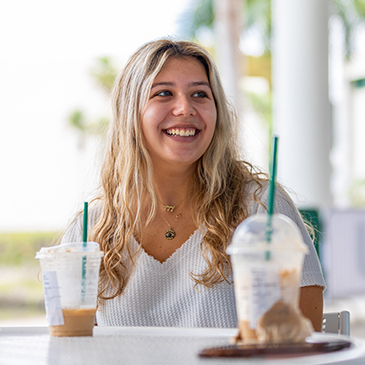 I honestly do not believe the political theory because I don't think there is substantial proof. But I have heard that birds work for the government.
I believe in other conspiracy theories, like the Mandela Effect [when a group of people all have the same false memory of an event, detail, or occurrence], but this one does not have anything substantial to it.
---
Photos: Jenny Hudak/University of Miami
---