They sat in on a BBC politics broadcast. Tried out the correspondent's chair at the CBS television bureau. Watched New York Times editors strategizing on their coverage of the Ukraine war and traced the career steps of the chief public relations and marketing executive for the studio that made the Harry Potter movies.
Nearly a dozen University of Miami students, most from the School of Communication, shared these experiences and more during "London Summer," a long-established, three-week Study Abroad program organized by Joseph B. Treaster and Gina Presson, professor and lecturer, respectively, in the School of Communication.
Four students shared their experiences, and they commented on how the trip sharpened their career perspectives and left them with professional connections and lifelong friendships.
Chloe Beach, a junior in public relations with minors in journalism and marketing.
I'd been to Europe before with my family, but not to England and not by myself. There was something daunting but exhilarating about going to a foreign country on my own. It was a step into adulthood, a lens into my future.
I hoped that London Summer would help clarify my thoughts on my career. And it did. Now I know for certain my future is in public relations (PR).
Almost every day our professors, Joseph B. Treaster and Gina Presson, took us into the studios and offices of some of the most influential global organizations in journalism, public relations, and marketing.
I felt most at home with the PR people.
One day we went to Edelman, the world's largest public relations firm. The vibe of the London office and the demeanor of the employees felt good. I could see myself in a fulfilling career at Edelman.
We asked lots of questions. The Edelman executives told us about their jobs and how they'd gotten to where they were. They could tell we cared. They were encouraging and boosted our confidence.
Duncan Gallagher, the Executive Director of Crisis Management, took it a step further. Someone asked what the company looked for in hiring people just starting careers. Gallagher stopped and looked around the room. We were what the company was looking for, he said.
"Please come work for us," he said. "We'd love to have you. Especially here in London!"
I messaged him on LinkedIn right away and asked about an internship next summer.
Another standout for me was how well-rounded the London Summer experience was. We lived in dorms in central London and learned a lot about the city by going from one end of town to the other for meetings at the companies. And we picked up the London rhythm in the meetings.  
We saw a lot of Britain beyond London, too. We got briefings on public relations in government at the Liverpool City Council. We learned about graduate school programs in Cardiff and in Oxford, and we roamed the coastal resort town of Brighton one Saturday.
We spent very little time in classrooms. Instead, we immersed ourselves in the culture of England. Mostly, our work was in the offices with the professionals. Afterwards, we would review what we'd learned and plan our strategy for our next meeting.
But we also went to museums. Some of us went to concerts and to the theater. We explored the streets and some historic pubs. All of us came away with much broader perspectives on our careers and the world.
For me, London Summer was a once in a lifetime experience. I learned as a student. I grew as a human.
---
Ainsley Vetter, a junior majoring in broadcasting and public relations; executive producer, UMTV/Pulse.
I stepped off the plane at Heathrow Airport in London and knew the adventure of a lifetime awaited me. I'd grown up near New York City. Now I was getting a look at London.
It breathed history. I felt it had an indescribable sense of serenity. Our subway was the London tube. Our prepaid Oyster public transportation card was our key to the world. We just showed the card and could go anywhere in London.
On the London Summer trip I was far more than just a tourist. I walked through the doors of top communication companies almost every day. Many of the companies drew us, hands-on, into their day-to-day work.
I sat in front of the camera at the CBS London bureau and saw myself on the monitor. I could see my future. I knew right then—no more doubts—television was what I wanted to do. I watched an ABC "Good Morning America" crew film a live shot in front of Buckingham Palace. We sat in on a story conference on the Ukraine war at The New York Times. Hearing the editors plan their coverage of the war made me feel like I actually worked there.
Editors at The Daily Express gave us a taste, page by page, of how they lay out their print newspaper every day. They even asked us where we thought certain stories should go, what was right for the front page. 
The London Summer program helped us all see more clearly where we were heading after graduation.
---
Camila V. Romero, a senior majoring in creative advertising and minoring in graphic design.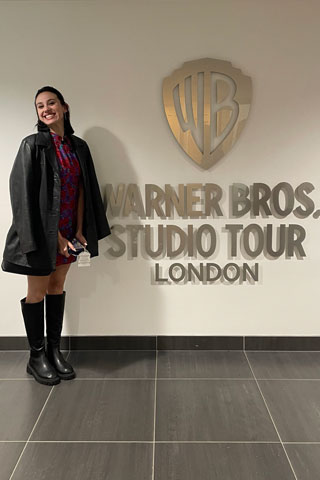 In the first week of London Summer we went to Reuters, one of the largest news agencies in the world. We spoke with Nick Tattersall, a global managing editor, and Kaylee Rogers, the Reuters corporate communications manager for Europe, the Middle East, and Africa.
They talked with us about the huge scale and scope of Reuters and the speed at which Reuters reporters and editors must operate to keep the agency competitive in a world of deadlines where every second counts.
Tattersall had worked around the world as a correspondent for Reuters. Rogers told us about how she got started in journalism at a small newspaper, then shifted to public relations for news organizations, and then worked her way up through jobs at Channel 4 television in London and the BBC.
London dates back to 47 A.D., I learned. It is layered with history, art, and culture. One of my passions is graphic design and everywhere I looked in London I saw fascinating designs and intriguing architecture.
London Summer gave me the opportunity to experience London in a way not many people can. Instead of studying in classrooms, our classes consisted mostly of seminars in big communication companies. The companies are generally not open to visitors. 
Some of the experts we talked with had tried jobs in several fields, or several areas within journalism and public relations. That calmed some of the anxiety I had been feeling about choosing a career.
In London Summer I could see that not all successful people had a clear road map for their future when they graduated. They tried one field, then another. I could see that I actually had the freedom to try out several of my interests. And that was liberating.
The big take away for me was to follow your passion. Anything that excites you, give it a try.
---
Carolina M. Camus, a junior majoring in journalism and advertising and editor of the Ibis, the University's yearbook.
I arrived in London five days early with my parents. We went to Buckingham Palace, the London Eye, the National Gallery, and even took a bike tour. When the study abroad program began, I was able to do things that a tourist would never be able to do.
At the New York Times's London bureau, we met the Europe Editor, Jim Yardley, and sat in on an editorial meeting. It was interesting to me, the editor of the yearbook, to see how industry professionals work together and discuss ideas.
My favorite part of London Summer was speaking with Rachel Parsons, the public relations and communications manager for the Warner Bros. studios that made the Harry Potter movies. 
She talked with us about her work in the world of Harry Potter and the qualities that employers look for in recruits. We spent most of the day studying the making of the Harry Potter movies. I'm a Harry Potter fan. It was fun and we all learned a lot about moviemaking.
London was my first experience of living in a dorm with other students. In Miami I live with my parents and commute to campus.
In the dorm I was more independent than I'd ever been, and I made some great friends that I think I'll have for life.
Slideshow photos courtesy of Howard Seelig, Gina Presson, and London Summer students
---