Lauren Elia, a fourth year School of Architecture student, could not quite believe it.
During a ceremony on Friday at the school, she was named the first-place winner of the Go Friday competition. Her winning design of a Japanese inspired houseboat came with a 1,000 euros prize and a trip to Portugal.  
"I am still a little shell shocked," she said, holding a certificate. "I did not expect this. It's very incredible experience and I am so glad to be a part of it." 
Elia was one of 18 students who took part in the School of Architecture Summer Design Studio, taught by Veruska Vasconez. The six-week studio joined forces with Go Friday, a Portugal-based design firm well-known for its innovative floating structures.
As part of the studio, the students engaged in the competition sponsored by Go Friday to create floating houses and dwellings that could withstand strong weather, expected to become more severe with the effects of climate change. Besides the cash prizes, the company will host a 10-day trip to Portugal for the top three winners.
Natalia Ferreira and Jose Maria Ferreira, owners of Go Friday, were present at the award ceremony.
Vasconez said the entries were of such high quality that picking the winners had been difficult. The students chose the location of where their houseboat would reside and had to take into consideration the geography and topography of the area.
"Each student was asked to pick a country, a location, and think of the problems with the environment and the problems that we are suffering with sea level rise and overpopulated cities," said Vasconez.
Rodolphe "Rudy" el-Khoury, dean of the School of Architecture, thanked everyone for attending the presentation and said the competition embodied the priorities of the architecture program.
"This competition perfectly aligns with our learning objectives," he said. "We want our students to deal with real world problems and to engage with stakeholders. We also value travel and immersion in different cultures. I cannot think of a better opportunity than this competition to embrace the pedagogy of our school."
Second place winner Vanessa de los Angeles Crespo and partner Ana Yu won 750 euros. Their design was a houseboat compound in La Parguera in Puerto Rico, which integrated the topography of the area, including mangroves.  
Third place went to Isacio Javier Albir and Tiffany Agam. They won 500 euros. Their project was Aria, an innovative concept for grid system floating platforms that can be customized to create different configurations. Their venue was the Paris Olympics and introduced ways to promote Go Friday as part of a living exhibition on the Seine River through cafés, viewing platforms, and living spaces for dignitaries in the 2024 Paris Olympics.
Honorable mentions went to Carolina Illera Barberi and partner Sarah Alturkait, Emi Kopke, and Miranda Gabrielle Posey and associate Morgan Isabel Rapp.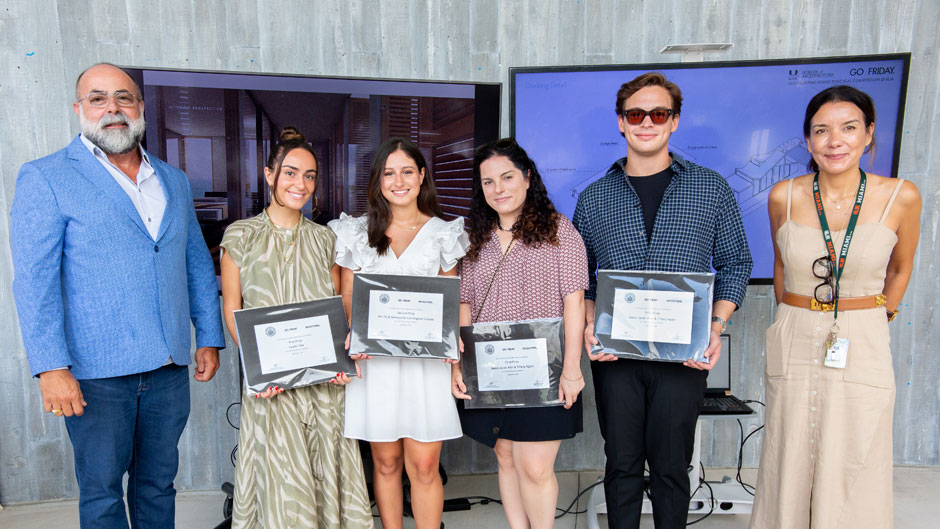 ---