Building bridges is a skill Jaret L. Davis learned from an early age. 
Growing up in Miami, Davis' parents often exposed their son, and his sister Kimberly, to different cultures and faith communities to impart the value of tolerance. For a year, Davis spent afternoons with a Mormon family, and he was enrolled in a public high school where Jewish, Hispanic, Asian, and Black students shared classes daily. In college and law school at the University of Miami, Davis had friends from a variety of backgrounds. 
"At any given time, our parents had us in synagogues and mosques," said Davis, who was raised Catholic. "My mom and dad always believed in bridge building and in getting to know different communities. The more immersed you are with these communities, the more you see we're all exactly the same fundamentally, where it counts." 
That foundation taught Davis how to forge connections between diverse interests. He believes it also helped him rise to the top of Miami's legal ranks as co-managing shareholder of Greenberg Traurig's Miami office, where he has helped lead some of the largest corporate mergers of technology companies in South Florida history. 
But Davis' ability to deftly navigate complex business transactions with diverse interests has also propelled him to leadership roles in a host of organizations throughout his hometown, including eMerge Americas, the Miami-Dade Beacon Council, and Nicklaus Children's Hospital. For his empathy; service to the Miami community; and expertise in corporate, securities, and technology law, Davis is being honored with the Anti-Defamation League's (ADL) 2022 Jurisprudence Award at its 30th Anniversary event on Nov. 15. 
"The honor of an award tends to be a direct reflection of who has received it and some amazing South Floridians have received this in the past. So, I'm incredibly honored and humbled to be considered in the same light as them," Davis said. 
The ADL honors individuals who have made exceptional contributions to the legal profession, while exemplifying the principles and mission of the ADL: to stop the defamation of Jewish people and secure fair justice and treatment for all. Throughout his career, Davis has been active with the American Jewish Committee, MCCJ (formerly known as the Miami Coalition of Christians and Jews), and the Florida Muslim Bar Association. He was also the only non-Muslim founding board member of EmgageUSA, which seeks to empower Muslim Americans through political literacy and civic engagement. 
"The legal community is foundational to our work of fighting hate, extremism, and all forms of bigotry," said Sarah Emmons, ADL Florida's regional director. "We are thrilled to pay tribute to Mr. Davis as we celebrate his dedication to the pursuit of justice and our community's well-being. Jaret and his firm selflessly give back wherever they can and are true partners in helping to make this world a better place." 
Davis attended the University of Miami in the wake of Hurricane Andrew. He majored in economics with minors in finance and computer science. And immediately after graduation, he attended law school. He went on to join Greenberg Traurig, one of the nation's most prestigious law firms that flourished from its Miami roots to become one of the country's top firms with 2,600 lawyers and 43 offices globally. Today, Davis oversees close to 170 attorneys and 200 staff members based at the firm's Miami office and serves as a member of the company's global executive committee. He focuses his corporate and securities practice on domestic and cross-border mergers and acquisitions, capital market transactions, and large financing.
The Greenberg Traurig attorney also has spearheaded the firm's efforts to become a dominant player in the technology industry. Two of his major transactions include representing Terremark Worldwide when it was acquired for $2 billion by Verizon Communications Inc., and Medina Capital in its $3 billion joint venture with global private equity fund, BC Partners, to form Cyxtera Technologies.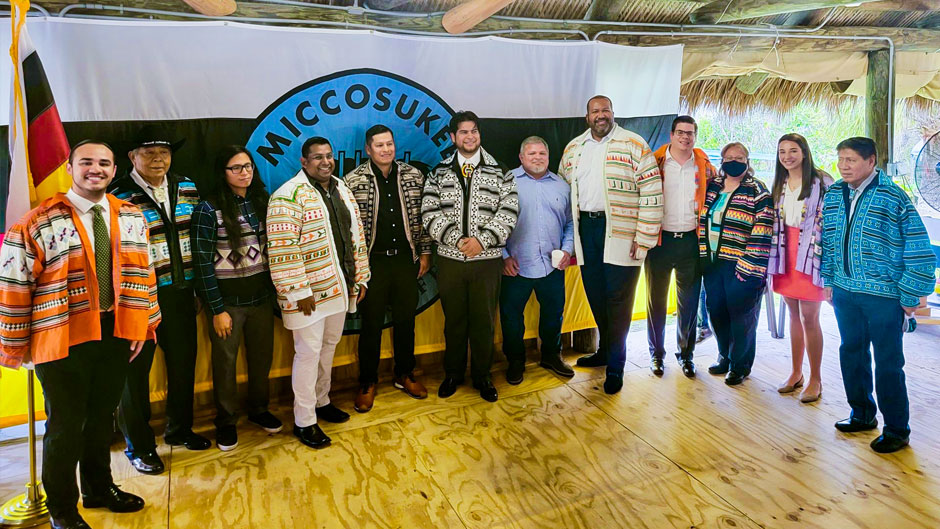 Jaret Davis, fifth from right, and several other members of Iron Arrow's leadership were invited by the Miccosukee Business Council to witness their investiture on Dec. 6, 2021. Photo courtesy of Jaret E. Davis.
Outside the office, Davis also spends much of his time working with community organizations. As a law student, he became the first Black chair of the University's Iron Arrow Honor Society. He is still active with the organization, and Davis said that he appreciates its unique history as a University organization, which was created in partnership with the Miccosukee Tribe of Florida. Davis views Iron Arrow as a model for cultural exchange and interaction and enjoys close friendships with members of the Miccosukee Tribal Council and other tribal leaders.
He also has served as the chair of the Miami-Dade Beacon Council, the county's main economic development organization, where he led Miami's bid to obtain Amazon's HQ2 headquarters resulting in it being one of the finalists in the process. A former president of the School of Law Alumni Association, Davis also funded a study room in the Donna E. Shalala Student Center, which was dedicated the Jaret L. Davis Black Law Students Association Racial Justice Collaborative Workspace. 
Additionally, Davis was one of four co-founders of eMerge Americas, a global technology conference that has played a critical role in launching Miami's burgeoning tech movement. He still serves as general counsel for eMerge, and also recently completed four years as chair of Nicklaus Children's Hospital, one of the largest pediatric health systems in the state. And he continues to serve as chair of Nicklaus Children's Pediatric Specialists, the health system's medical group practice. Currently, Davis is on the board of directors for The Miami Foundation, City National Bank of Florida, and Venture for America. 
Davis said that he hopes the ADL Jurisprudence Award will help raise awareness about the importance of fostering communication and understanding among diverse groups. 
"It's disheartening to see right now in America how some of those bridges that we have built over time seem to be deteriorating, so more than ever the missions of organizations like the ADL are critical," he said. "This award represents an ideal, and hopefully we can all work together toward a place where we can relate and live amongst each other. You'll never get to the point where conflict is reduced to zero—that's just not realistic—but what's realistic is making sure that how we resolve that conflict is done in a civilized and productive manner."
---