With cameras flashing, sequins sparkling, and the red-carpet rolled out, the University of Miami Frost School of Music became the center of attention on Thursday evening with the opening gala for its new Knight Center for Music Innovation. 
The $36.5 million, 25,000-square-foot addition to the music school, designed by architecture firm H3, was the venue of the night with notable Frost alumni participating in the event. Gloria Estefan, an alumna and Board of Trustees Emeritus member, hosted the evening of performances by accomplished musicians at the Robert and Judi Prokop Newman Recital Hall.
In addition to the emcee, Frost alumnus Emilio Estefan, singer and actress Dawnn Lewis, salsa singer Jon Secada, pianists Gonzalo Rubalcaba and Asiya Korepanova, and many more alumni were in attendance. 
"What I love about Miami is that we come from different places, but the way we feel about Miami and the pride we all share, we are blessed to live in this incredible country that gives you the opportunity to show your culture and especially through music," said Emilio Estefan. "And that's always been the University of Miami for us."
As the Frost School ushers in a new future of music, the Knight Center for Music Innovation stands as a physical manifestation of this vision. An exciting additional feature of the building includes the Robert and Judi Prokop Newman Recital Hall, a 200-seat theater that will serve as a laboratory for students, faculty members, and musicians to explore innovative methods and techniques for creating music. The facility encourages individuals to imagine the possibilities of the future of music, providing a space for creativity to flourish. 
The Knight Center would not have been possible without the University's steadfast donors and philanthropists, many of whom walked the red carpet ahead of the event, including Philip and Patricia Frost, Judi and Bob Newman, David Weaver, Diane and Daniel Hennelly, and Alberto Ibarguen, president and CEO of the John S. and James L. Knight Foundation.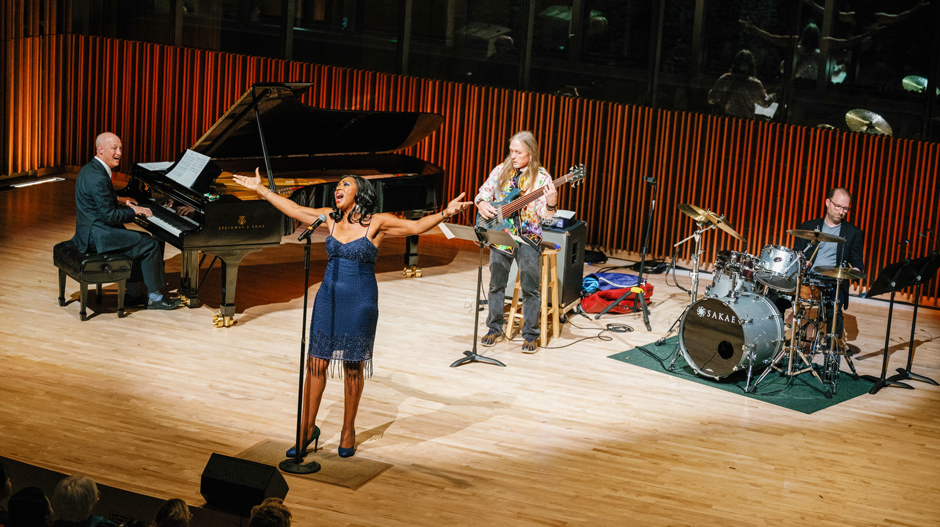 According to University President Julio Frenk, who was also in attendance, these performance spaces not only elevate the caliber of cultural institutions across Miami, but also provide a platform for elite artists and musicians to engage with the burgeoning Miami music community through the University. 
"This is a wonderful building in many respects, especially because it continues to activate Lake Osceola as the heart of the campus," said Frenk. "This is a physical presentation of our pursuit of excellence and our focus on innovation and creativity with the support of our benefactors. So, it symbolizes the coming together of generosity, creativity and innovation, and talent and excellence."  
Along with an evening of operatic, classical, and jazz performances, many former Frost students also chose to reflect on their own time at the U and what it means to see such innovation being created for a new generation of 'Canes. 
"I was young when I started here; I was 16. And I was from New York, where everybody was everybody. But I didn't necessarily have that feeling of inclusion at the time I had started at the U," said Dawnn Lewis. "My professors here, one of them who gave me my start as the first-ever Black woman to star in a traditionally white role in a play here, were really the people who gave me the courage to fly. And I know they're doing that for every other student who walks through this campus."
---