More than 3 billion people around the world cook over open fires, according to the Pulitzer Center. A great number of families near the Guatemalan colonial town of Antigua fall into this category. And the smoke from those wooden pits frequently causes respiratory ailments that affect the health of children and adults alike. 
University of Miami sophomore Aria Harrell spent time with a family last semester in one of those towns as part of her School of Communication class called Documentary in Guatemala. Harrell and classmates Manuel Rubio, Wesley Huggett, and Jamari King documented the life of Zoila Esperanza Chiquito and her family in their cramped house, which served as shelter for 15 relatives.
"I did not realize how impactful it is simply not to have access to a stove," said Harrell. "So many people in Guatemala are cooking with these wooden stoves that are filling their house with smoke. When you go into these homes, there is smoke everywhere. My lungs could barely handle it, and they have to go through this every day."
Working with the local organization Ecocomal, which provides smokeless stoves to local residents at no cost, Harrell and her team were able to document the plight of a family in Antigua and also the work of the cookstove company.
Producer Harrell and director Rubio's documentary "Respirando Vida Nueva," or "Breathing a New Life," earned the Communicating Global Miami Award student competition for academic year 2022–23 from the School of Communication. Harrell recently traveled to Austin, Texas, as a panelist to attend the 2023 ConnectHER Film Festival, where she also accepted the Global Impact Award. Her film was granted additional funding by one of the festival's foundation partners, recognizing the movie's inspirational message.
This spring semester, graduate and undergraduate students will have another opportunity to create films in Antigua. In its second year, the class is a graduate and upper-level course that focuses on the production of short, social impact documentary films.  
Sanjeev Chatterjee, a professor at the School of Communication who is director of the Documentary M.F.A. program and has produced many documentaries, will teach the class.
"This is an opportunity especially for documentary students, since they are more inclined to work on films that create social impact, to do so," he said. "They can engage with social impact beyond just making a film."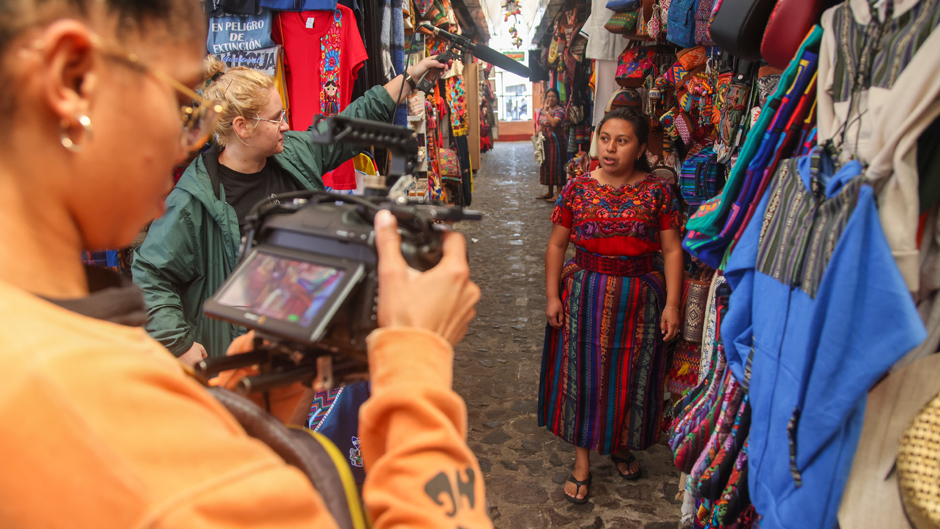 For their projects, the students will focus on the work of organizations that are dedicated to Environmental Sustainability and Governance (ESG) goals, he pointed out. A translator is provided for those who do not speak Spanish.
Chatterjee said that students must do all the pre-production work from Miami during the first part of the semester. They will gather information, scout locations, and decide who to interview for their project in Guatemala. 
"During spring break they have to go and shoot it, knowing that there is no second chance to do this and collect more stuff because they were negligent or did not think it through," said Chatterjee.      
The second half of the semester focuses on editing and completing the short films.
According to Chatterjee, there is a trend in documentary making where the creators see themselves as "impact producers." He sees many of his students as these type of innovators—they make documentaries that often have a social agenda to create change.
"One that is very prominent is Al Gore's 'An Inconvenient Truth,' " he said. "It was made to bring the idea of climate change into the mainstream, so people will start thinking about climate change."
But the film was created along with a whole strategy on how to make young people attracted to the film as well as to how to divulge the climate change message in their communities, he noted.
Oana Whaples, a second year M.F.A. student in the documentary filmmaking track, joined her classmate Zanolee Grant to make a feature on the independent coffee growers in Antigua.
They worked with De La Gente coffee, a group that is trying to promote coffee farmers and help them sustain themselves more equitably and avoid being bought by larger corporations, she said.
Whaples was able to chronicle the life of Manuel Gomez, a local coffee farmer in the nearby town of San Miguel Escobar, as he harvested the coffee beans and put them out to dry in the sun. The crew then spent time with his wife, Rosita, who brewed coffee for them.
Whaples, who speaks Spanish and has lived in South America, found the class interesting. She said the class offers many benefits.
"For students who don't have this cultural exchange experience or maybe they want to improve their Spanish and they want to discover stories outside of their cultural zone, it is a great opportunity," said Whaples. "As Sanjeev likes to say: 'travel is the ultimate frontier.' " 
---