Whether it's ornate sculpture, colorful paintings, or artistic photography that catch your eye, there's a new place on campus to view and appreciate art. 
On the first floor of the University of Miami's Ashe Administration Building, 31 pieces of original art from 22 different students make up the new Undergraduate Art Exhibition. The artwork dots the hallway leading toward the new first-floor student advising suite, as well as in between advising offices. 
Three 3D pieces, including two sculptures and a fabric soccer ball are featured at the rear of the building, inside the student success center. The exhibition will be on display through May 2024 for everyone to enjoy, according to Nathan Timpano, associate professor and chair of the Department of Art and Art History in the College of Arts and Sciences. The new gallery came to fruition after the advising suite was renovated this summer and two leaders approached Timpano with the idea of displaying original art to encourage students to visit and study there. 
"We thought wouldn't it be great if we could also showcase the amazing talents of these students to their friends and family, as well as faculty members who may come in contact with the work?" Timpano said. 
University gallery director Milly Cardoso quickly put out a call for student work in September and assembled a faculty jury committee to select the strongest pieces to display. On Oct. 5, there was a small opening reception where students shared their work with family and friends. 
One of the largest pieces that's hard to miss is a vibrant oil self-portrait of junior Hannah Kuker titled "Strung Together," where she features a red string on her pinky finger. Kuker, who had her work displayed in the SCOPE Art Show last year, often creates pieces of art that touch on social issues and the idea of unity. 
The symbolic red string was added to remind viewers that humanity shares many common traits, an idea that comes from Chinese culture. "The cultural notions of a red string are used as a reminder of the interconnectedness of all beings," said Kuker, a junior majoring in finance, legal studies, and studio art. 
There also is an oil painting of the famous New Orleans restaurant Commander's Palace crafted by Ellie Sundell and a soccer ball purse created from denim by Marialejandra Gonzalez, a senior studying graphic design. In between the advising offices, there are photos that spotlight underwater sea snails, as well as a colorful photo of a red ant by Ula Stiponovich. 
Among the few sculptures are two by Leah Henseler, a junior studying marine affairs and art. Henseler got her start by building innovative wood furniture in her home garage. And now she creates sculpture with wood and other materials, as well as glass art. 
For the small ceramic sculpture "Your Captured Worries," Henseler used a unique organic glaze called lichen that crackles and pulls together during firing. She also created special ceramic decals that she fired onto the clay. Overall, the piece's shape symbolizes a living body or being, and the imagery—created with the decals inside of it—is Henseler's interpretation of what repetitive thought and unsaid words look like. 
"Getting a chance to get my art out into the world and to show it to other students is always exciting," she said. "Also, having the chance to show the University that there is this awesome work being made and the fact that it's displayed in a spot where students are looking for advising help means that art is important to the school, and it's being shown as a career path for students." 
Junior Alexandra Fisher's photo "Haulover" is one she shot while enjoying a beach day with friends in North Miami. Fisher was walking back to the car when she noticed the unique way that the setting sun's rays were peeking through two high-rise buildings, and she captured it with her camera.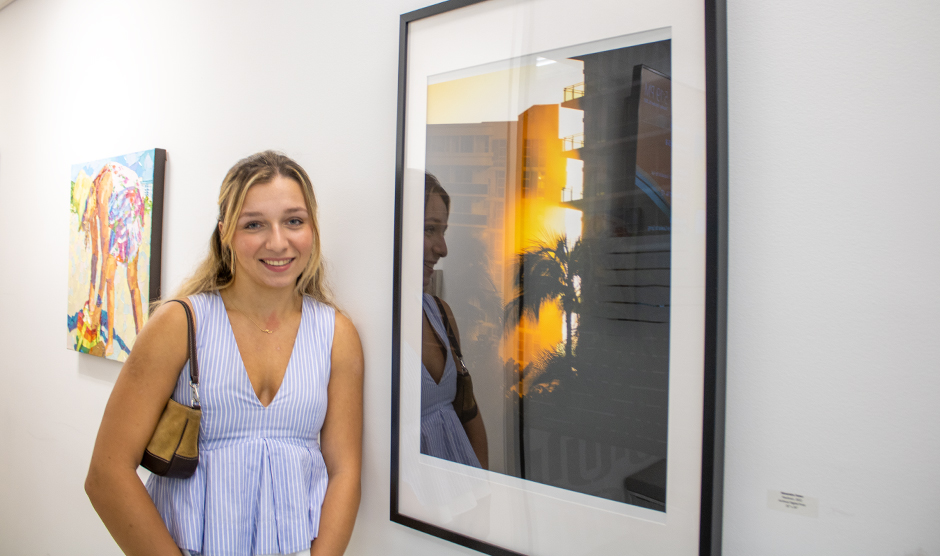 "You can look at the piece from a lot of different perspectives, but it was just a really beautiful day and the light coming through those buildings was illuminating the people and the water," said Fisher, who has been taking photos since she was 4. 
Fisher, and others, hope the new space will bring renewed enthusiasm for art classes at the University. Junior Saidy Burch, whose painting "27 Mangos" features the tropical fruit, sold her painting to someone who saw it on display at the Ashe Building, Timpano noted. A few others also have been sold, he pointed out, and all of the artwork on exhibit is available for purchase. 
The exhibition has received a very positive reception, Timpano said, and other departments already have reached out asking for student art to enrich their spaces on the Coral Gables Campus. So, there soon may be other outlets for student work. In the meantime, there are students exhibits at the Lowe Art Museum and the University's Wynwood Gallery. 
"This is such a wonderful opportunity to publicize what our students are doing creatively on campus," Timpano said. "It's also an opportunity for the department and the College of Arts and Sciences to celebrate the visual arts in the middle of campus. And when students realize there's this chance to be exhibited, I hope it's an incentive for more students to enroll in art classes."
---