For the past five years while attending a weekly class, University of Miami School of Business Administration students have managed a real-time equity fund invested in publicly traded equities and exchange-traded funds (ETFs) that now has more than $500,000 in assets. The CAT 5 student managed investment fund (Cat 5 SMIF) is a one credit class for which students compete to enter beginning in their junior year. Earnings from the fund support enhancement activities related to investment management for students in the fund.
Targeting students who love learning, investing and watching the market and its' ups and downs, the competitive process encourages students with high GPAs to apply. The rigorous application process includes writing an essay on whether an equity position in the Cat 5 SMIF should be sold or held. The course is open to full-time undergraduate and graduate students in the School of Business Administration.
"The best decision I've made in my college experience was to join the Cat 5 SMIF class. This class, a true investment fund, opens the door to professionalism and real investment management. I've learned skills I may not have acquired by attending regular lectures. And, it has also offered me countless career opportunities here in Miami, since most of the major banks locate their investment management divisions in the city," said senior Gian Luca Olivieri.
Students who are selected learn the inside track on how investment decisions progress in teams, starting as analysts and rising to leadership roles such as portfolio managers, and finally to co-chief investment officers. The class meets on Wednesday nights and students can be enrolled for up to four semesters until graduation. Two-thirds of the approximately 30 students enrolled in the course are undergraduates.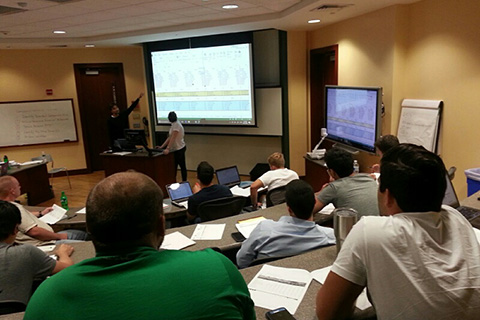 New students to the class begin with investment analysis training and financial modeling. Then students are placed into one of the six groups, based on industry sectors: consumer, energy, industrials and materials, technology and media, healthcare, and financials and real estate. The industry training continues throughout the semester, led by each team's portfolio manager and associate managers.
"The Cat 5 SMIF class has been one of my best UM experiences as a student. This course allows undergraduate students to apply what they learn and to make investment decisions. I gained experience managing a portfolio, pitching stocks, and stock selection. And I was able to access mentoring from professionals working in positions to which I aspire. As a result, I was able to focus on the segments of financial industry where I wanted to work and I secured a full-time job at an investment firm upon graduation," said senior Alexa Coyle.
The participatory learning experience places the expectation on the student to be involved in research and investment proposals during the semester. "We want looking at their stocks to be the first thing the students do each morning," said Andrea Heuson, professor of finance. Heuson co-teaches the class with Brian Barrett, associate professor of finance. They designed the class to feel more like a conference setting, with a hands-on, practical approach. The classroom is equipped with Bloomberg software to aid the research, and a real world decision-making environment is simulated.
Several CEOs of local area corporations have personally pitched the same presentations they give to equity research companies to the class. In some instances the Cat 5 SMIF agreed to purchase the stock. Previous guest speakers have included the CEOs of Ryder Systems and MASTEC and the CFO of WATSCO. These speakers are invited by the informal advisory board members comprised of local investment professionals who mentor students and invite guest speakers from the local and national investment community.
As the semester ends with "the final," the CEO pitches and contact with investment professionals becomes more essential. "The "final" includes the entire team presenting a particular stock to the Cat 5 SMIF fund managers. The team tries to persuade the fund managers to add a company to the portfolio based on their research.
Senior Will Singer said, "I was able to get an internship with Brickell Bank's Investment Group, where I am currently interning, in part because of my experience with SMIF. Cat 5 SMIF is a very interesting opportunity to get real world exposure to the kind of analysis that investment professionals use to make decisions."
After experiencing the real-word investment and decision making scenarios, several former students were hired in Wall Street jobs doing equity research or working at investment management companies.
Another success story is Javier J. Hernandez, B.B.A. '16, who as part of the class researched the communications infrastructure sector, in particular, American Towers. After an acquisition the company is now called Digital Bridge, where Hernandez is now employed. 
Five years ago, the inspiration for the funding of the CAT 5 SMIF came from a parent whose daughter was a freshman. Mark Coe, of Coe Capital Management LLC, worked with Heuson and Barrett and donated to seed the fund after his daughter Breana researched other student funds.
"What I found most gratifying is the assistance the course work provides to students, who land strong internships and jobs," Coe said. "I have had several students intern for Coe Capital. They have been among the most ambitious and talented young students that have worked for the firm. I have followed the success of these and other SMIF students and am proud of their early career success."           
Students interested in the class can find the application on the CAT-5 SMIF website.
---