Editor's note: Each summer, hundreds of students from the University of Miami participate in study abroad programs that take them to numerous countries in nearly all continents across the globe. Dispatches from Abroad highlights some of those students and their impressions about experiencing new cultures.
---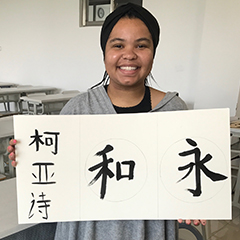 Asia Cadet is a rising senior with a double major in Criminology and Political Science, and a minor in Modern Languages. She also is president of UM's Haitian student organization, Planet Kreyol.
August 7, 2017
Hey everyone! Today, I'm both equally excited and sad to be writing you my last blog from Changchun. I've successfully completed the Critical Language Scholarship's eight-week program for the second time. Since I've been here, I feel that my Chinese language has improved exponentially and so has my understanding of Chinese culture (northeastern Chinese culture, in particular).
For our last meeting of the summer, my language partner and I went out with a bang! Together, we visited the Jingyuetan National Forest Park. In the middle of the park sits a gigantic man-made lake surrounded by forest, hiking trails, wetlands and mountains. The lake was formed in the early 1900s when the Chinese government built a dam in an attempt to provide water to Changchun. Now, the park has been named a scenic destination by the Chinese government. The best part of the lake is not only that it's beautiful, but the temperature of the water is extremely comfortable. My language partner took me to a section of the lake where visitors can freely swim and walk in the shallows. Though we only dipped our feet, we spent about a half an hour hanging out in the water. Afterwards, we went to our favorite noodle shop across the street from our school for lunch. Overall, going to Jingyuetan was a great way to get away from the bustle of city life and enjoy one of China's more relaxing natural areas.
I want to thank everyone again for following my adventures throughout the summer. If you (or anyone you know) is interested in studying a critical language and travel to another country for the summer, please visit http://clscholarship.org/ for more info on how to apply. The program provides such amazing opportunities, don't miss out! J
Best,
柯亚诗 (Asia Cadet)
---
Ashley Brooks is a rising junior with a double major in Political Science and Spanish. Her minors are Arabic Studies and Modern Languages and Literature.
August 7, 2017
This weekend marked the beginning of the end of my time in Morocco. The nostalgia has been rushing in hard. I'm so grateful for the opportunity to experience Morocco and learn Classical Arabic as well as the Moroccan dialect. My time in Morocco has opened my eyes to certain things that I used to take for granted; one example being toilet paper. However, I'm torn because I am undoubtedly excited to see friends when I return to UM; but there are many things both tangible and intangible that I will miss about Morocco. For one, during my time here I've come into contact with some very generous people and witnessed remarkable acts of kindness. Also, I've become accustomed to how cheap taxi rides are here. A typical taxi across town in Tangier only costs about 80 cents in U.S. dollars. If I were to request such a fare from a Taxi or Uber in Miami, people would assume I had lost my mind. Also, Tangier has incredibly cheap and delicious Canary melons which I've never seen in the U.S. Canary melons are similar to what we would call honeydew but they are much sweeter and bright yellow.

My friends and I took one last beach trip this weekend. On Sunday, we went to a beach about an hour east of Tangier called "Dalia." Dalia had crystal clear water and a gorgeous view of Spain. My friends and I stayed there for hours just enjoying the refreshing Mediterranean water. Even though Miami has beaches aplenty, being able to view another continent from the shore is something I'll definitely miss.

Overall, my summer in Morocco has been one of the most rewarding experiences. Besides making tremendous language gains, I have made countless new friends whom I'll be sad to leave. Tangier has taught me that deep down I do, in fact, like cats. Tangier also promptly taught me that I am allergic to cats. The stories and smiles from this trip are infinite. Even though I'll be saying goodbye this weekend, I already can't wait to come back.
---
Asia Cadet is a rising senior with a double major in Criminology and Political Science, and a minor in Modern Languages. She also is president of UM's Haitian student organization, Planet Kreyol.
July 31, 2017
Hi all! This week I'm excited to share my experiences at the Chinese Northeast Ethnic and Folk Custom Museum of Northeast Normal University.
This museum, an extension of my school, was built to document the history of Northeastern Chinese ethnic minorities. China is an interesting country, and very different from the U.S., in part because it is about 90% homogenous. The majority of people who live in this country are exactly the same race, Han Chinese! The other 10% of the population is composed of 56 different Chinese ethnic minorities that have their own culture, language, and cities.
One ethnic group, the Kazakhs, are very interesting to me because the only thing that separates them from their Kazakh family in Kazakhstan is the Chinese border. The Kazakhs were also one of the few civilizations on earth (along with the Mongolians) to hunt prey with golden eagles and some still continue this practice in Inner Mongolia today.
In addition to visiting this amazing museum this week, this has also been a great week for food! I've eaten everything from sushi to Shanghai-style dumplings to squid.
One of China's ethnic minorities are the Hui people, who are predominantly Muslim and whose ancestors are from Persia, Sri Lanka, and Inner Mongolia. This weekend, I also discovered that there is a Hui/Halal restaurant across the street from my school (it's a wonder I missed the Arabic sign on top of the restaurant for the last six weeks). The noodles and dumplings at this restaurant are amazing! One of the things I'll definitely miss when I come home is the food J. See you all next week!
---
Ashley Brooks is a rising junior with a double major in Political Science and Spanish. Her minors are Arabic Studies and Modern Languages and Literature.
July 31, 2017
This weekend my parents came to visit me in Tangier. Despite only being in town for a few days, there was no shortage of excitement during their time here. Each day was equal parts hilarious, adventurous and wild. Acting as their official tour guide, we explored the Old Medinah, the New City, the beach and even took a day trip. 
On Saturday, we traveled to Chefchaouen. My Dad was impressed by the beautiful mountain scenery that surrounds the city, and my Mom was fascinated by Morocco's beautiful crafts. For them, the heat certainly took some getting used to, but nevertheless, they were troupers as we sauntered through the city's blue hallways. On Sunday, back in Tangier, my parents rode camels on the beach. It was exciting, as well as nerve wracking to see them saddle up and gallop down the beach. On foot, I ran after the camel ready to catch anyone if they fell. Over the course of this weekend, my parents were able to witness me bargaining with shopkeepers, switching between Classical Arabic and Moroccan Dialect depending on the situation. My Dad was able to utilize his French skills and even picked up a few phrases in Arabic. 
It was amazing to watch my parents keep up with me as we hopped in and out of taxis, climbed up and down mountains, and negotiated deals in markets. We had stimulating conversations with fellow travelers as well as curious locals. In my program, only two weeks remain. After that, I will be back in Miami preparing for a new semester. The nostalgia has already hit even though I have not yet left Tangier. When asked today what I will miss most about Tangier, the answer was simple. The melons. 
---
Asia Cadet is a rising senior with a double major in Criminology and Political Science, and a minor in Modern Languages. She also is president of UM's Haitian student organization, Planet Kreyol.
July 24, 2017
Hi all! So this week has been slow on activities but I've had some very interesting class discussions. Our recent textbook chapters have, in large part, covered Chinese idioms.
Idioms are my favorite part of Chinese language because most idioms consist of only four characters but they have an entire backstory that gives them meaning. For example, this Chinese very popular idiom 画蛇添足 (huàshétiānzú) means "to go too far". The literal translation however is "to add feet to a painting of snake;" the logic behind this phrasing is that if one was to paint a picture of a snake that was already perfect, why add feet? Another idiom that I love is "对牛弹琴" (duìniútánqín) which means "to play a flute for a cow." The story behind this idiom is that once an ancient Chinese musician, whom everyone loved, saw a cow grazing in the field. The musician decided to play beautiful music for the cow but the cow paid no attention to him. This confused the musician until a wanderer approached him and explained that cows have no ability to appreciate the music of human beings, as they are just animals. The modern day meaning of this idiom is "sometimes when you talk to others about things they don't understand, it's almost like playing the flute for a cow." While English is also full of idioms and odd sayings, the precision with which Chinese can present these idioms in a concise, but deep manner, is truly amazing!
All in all, I'm officially five and a half weeks into CLS Changcun and I'll be returning home in two and a half weeks! I'm very excited to return home but I know I will definitely miss China. Getting to spend 90 percent of my time speaking Chinese while I'm here is not an experience I will get to have in the U.S, so I'm going to make the most of my time while I'm still here J .
Until next week,
Asia (柯亚诗)
---
Ashley Brooks is a rising junior with a double major in Political Science and Spanish. Her minors are Arabic Studies and Modern Languages and Literature.
July 24, 2017
This weekend I made my way to the south of Morocco to visit the desert. Before I recount the wild adventures that ensued, I feel I must explain something I find funny about the "Sahara Desert." In Arabic, Sahara means desert, any desert, not just the one in North Africa. So when someone mentions they're going to the Sahara in Arabic, it could be anywhere from Jordan to China. Taken literally, the name is quite redundant and rather vague. However, North Africa's desert is approximately the size of the United States, and the largest hot desert in the world, so people tend to correctly assume which desert you'll be traveling to.
In the desert town of Merzouga, I went camel riding. The trip took about an hour to reach the camp site at the base of a sand dune. To call the ride bumpy would be an understatement. Camels move slowly but sitting on top of an animal's hump certainly can bring about some motion sickness. It was hot up until about 1 in the morning and then a cool breeze brought the temperature down from 105 degrees to a chilly 85.
After camping, I explored the local town and spoke to locals about life in the desert. They mentioned that Moroccans from all over the country come to Merzouga to take advantage of the healing properties of the sand. I asked a kind stranger if I could drive his motorcycle and he was more than happy to oblige. It was my first time on a motorcycle but it definitely won't be my last. In my opinion, the motorcycle was a much more efficient means of transportation than the camels.
---
Asia Cadet is a rising senior with a double major in Criminology and Political Science, and a minor in Modern Languages. She also is president of UM's Haitian student organization, Planet Kreyol.
July 21, 2017
This week in Changchun has been much more of a culture shock than the previous weeks. My resident director said that this is most likely because the "honeymoon phase" of coming to a new country has passed and the differences between Chinese and American culture are becoming much more obvious. It's very interesting being a black woman with long braids in China, as many people in this region have not seen a person of color before and don't know what to expect. Many people here are quick to stare and eager to touch my hair or rub my skin. We are often told that as members of the CLS program, we are American ambassadors responsible for representing America to the people around us. For that reason, I try to approach interactions about my hair or my skin with a measure of grace and understanding. About 99 percent of the time, people's curiosity doesn't come from a place of malice but from lack of experience with non-Chinese people. I believe that if I can educate at least one person about hair or dispel one person's negative perceptions of people of color, then I have, in part, accomplished one of the greater goals of the CLS program. At the University of Miami, we value diversity and I hope to share those values, even abroad!
In terms of program activities, this week has also been chock-full of cultural adventures! On Friday, I was able to see the Chinese rural countryside for the first time. The older women of the village were happy to teach us Chinese crafts such as weaving baskets, furniture and small toys out of dyed corn husks. We were then invited to some of the villager's homes to get a glimpse of their living situation. The families in the village were extremely kind; they gave us ice cream, fresh fruit and water and let us tour their home and farms. Additionally, this weekend, my classmates and I had the opportunity to hike Changbai Mountain which is the border mountain between China and North Korea. Though the mountain is normally covered in thick fog, I was lucky enough to be one of the few people to clearly see Heaven Lake. This lake, rumored to have a lochness monster living within, is partly Chinese territory and partly North Korean family. I can officially say that I've seen North Korea with my own two eyes! I can't thank CLS enough for that amazing experience.
So that's it for my experiences this week!
Until next time,
Asia Cadet (柯亚诗)
---
Ashley Brooks is a rising junior with a double major in Political Science and Spanish. Her minors are Arabic Studies and Modern Languages and Literature.
July 21, 2017
Someone asked me earlier this week, "Well, aren't you just visiting?" This question truly made me ponder my time in Tangier and I have come to the conclusion that my experience in Morocco has been so much more than just a visit. As a matter of fact, my program goes above and beyond just visiting a new country.
Realistically, I am learning two languages at the same time; Classical Arabic or "Fusha," and the Moroccan dialect, "Derijah." Derijah differs quite heavily from the classical form and incorporates many romance languages, such as French or Spanish. At first, I was hesitant about learning Derijah, viewing it as an unsurmountable challenge. Nevertheless, I dove right in and I can now say I operate almost smoothly in this conglomerate language. I've learned Derijah mostly through osmosis, soaking in all the vocabulary I hear in the street or around my host family. At times though, my teacher is horrified to hear me repeat some of the new vocabulary I bring in from the street.
I also walk to school each morning and take taxis around town, each time meeting new people. My day-to-day activities at school and with my host family more closely resemble that of the average "Tangerino." Due to the rigorous nature of weekdays, I eagerly look forward to weekends where I have more time to bond with my host family and explore other cities in Morocco.
Saturday morning, I cooked an American breakfast for my host mom, her three children, her two sisters and their two children. This was their first time having an American breakfast so, of course, I had to pull out all the stops. I ended up preparing pancakes, pastries, orange juice, eggs and fruit salad. It felt amazing to finally share a tangible piece of American culture with my host family. More often than not, I am on the receiving end of the cultural exchange, but Saturday morning presented a unique opportunity for me to be the teacher rather than the student. Thankfully, the whole family loved the breakfast I prepared; now the children light up at the slightest mention of pancakes.
On Sunday, I ventured out to the blue city of Chefchaouen once more. My visit this time included more pancakes and browsing art exhibits. Over the course of this past month, I believe I have acclimated to Moroccan culture pretty well. I have many Moroccan friends both in and outside of Tangier, my Arabic skills have flourished and I feel comfortable traveling alone to cities all over Morocco. At this rate, it might take some convincing to bring me back to Miami.
---
Landon Mediavilla is a rising junior majoring in biology. Jeni Curley is a rising junior majoring in nursing. They both are participating in a semester study abroad program at Sophia University in Tokyo. Landon shared the news about the couple in this recent post, and he and Jeni wanted to share it with readers of Dispatches from Abroad.
July 10, 2017
As you may or may not know I have been in Tokyo, Japan since March with my girlfriend of many years, Jeni. We are a part of a group of University of Miami students participating in a semester long exchange program to Sophia University in Yotsuya, Tokyo. Since we have arrived we have had a great number of adventures such as: Visiting over 50 shrines and temples in Kyoto. Flying to Okinawa and catching a giant tuna. Watching the cherry blossoms bloom. Having dinner with the United States ambassador to Japan. And my most recent adventure – climbing Mount Fuji. On this adventure Jeni and I hiked to the summit during the night to catch the sunrise the next day. Mind you the hike up took over 8 and a half hours! At the top just when the sky had become the most beautiful blend of pink orange and blue I asked her a question I had been waiting a long time to ask. On July 9th 2017 I asked Jenivieve Marie Curley to marry me, and she said yes!
Didn't want you to hear from anyone else! Please spread the word.
Hope to see you soon
Landon
"愛"はただ単に"愛"である。説明なんてできない.
"Love" is simply "love". It can't be explained
---
Ashley Brooks is a rising junior with a double major in Political Science and Spanish. Her minors are Arabic Studies and Modern Languages and Literature.
July 10, 2017
This past weekend I continued my journey of eating my way through Morocco, this time in the beautiful city of Chefchaouen. Chefchaouen (which by the way is much easier to spell in Arabic) is situated only 2 hours outside of Tangier, on the side of a mountain.
Known as the "blue pearl" of Morocco, this city is unique for a number of reasons, one of the most salient being its blue complexion. The history behind the blue dates back to 15th century Spain when Muslims and Jews were expelled; many fled to Morocco and settled down in the mountain town of Chefchaouen. Buildings were painted blue to symbolize the hope that the new settlement represented. 
On my first day in Chefchaouen, my friends and I hiked 3 hours up a mountain to swim in the cascades of Akchour. The view at the end was well worth the intense hike and profuse mosquito bites. 
Perhaps my favorite part of my trip to Chefchaouen, however, would be meeting a new friend, Youssef. Youssef owns "Cafe-Teteria" in the heart of the old medinah and just happens to have graduated from the school where I now study Arabic in Tangier. After I mentioned I was homesick for some pancakes, Youssef not only made me American-style pancakes but went as far as to add them to his menu. I am incredibly grateful for the kindness demonstrated by Youssef and other Moroccans who have gone out of their way to make me feel welcome in their country. On account of the beautiful scenery and even more charming people, Chefchaouen now permanently occupies a space in my heart. 
---
Asia Cadet is a rising senior with a double major in Criminology and Political Science, and a minor in Modern Languages. She also is president of UM's Haitian student organization, Planet Kreyol.
July 10, 2017
Hi all! I can't wait to share with you an amazing experience I had in Changchun this past weekend.
On Friday I had the opportunity to visit a Chinese retirement home for the first time. Retirement homes are a burgeoning market in China. Traditional Chinese family values are derived from the Confucian thought; the Confucian family structure dictates that children always stay close to home and take care of the elderly, this way multiple generations of a Chinese family all live in the same household. As China's younger population begins to stray from traditional family values, the need for retirement homes has continued to grow. While some retirement homes can be depressing, this home, whose name translates as "home of respect for the aged" (敬老院), is an entire community for the elderly. The 敬老院 featured an on-site academy where the elderly could partake in craft classes or learn how to use modern electronics, a karaoke hall, a mahjong recreation room, modern art, small markets, and even a large outdoor swimming pool adorned with two gigantic golden dragons.
As part of our trip to the retirement home, we had the opportunity to participate in the home's activities and interview some of the tenants. Ms. Deng, or Aunt Deng (as the Chinese refer to elderly men and women as aunt and uncle), was a very exceptional woman that I got to interview on Friday afternoon. Though talk about the Cultural Revolution is sometimes seen as an inappropriate topic of conversation with strangers, Aunt Deng was very open about her life in China during the 60s and 70s. After she graduated from a Changchun high school at the age of 18, Aunt Deng was sent to the countryside to do hard labor. During the Cultural Revolution, the focus of Mao Zedong and the Red Guards was equality; living in a large city or never having done manual labor was seen as unfair and many city youths were sent to the countryside to experience that lifestyle. So, Aunt Deng spent the next 10 years in the countryside, separated from her family who remained in the city. When Deng Xiaoping took power in 1978 and opened China to the West, Aunt Deng was able to return to Changchun and start a successful business. She then worked prosperously for many years until her retirement in 2011.
Last semester, I was able to take Politics in China with the accomplished Professor June Dreyer, who was recently given the Distinguished Faculty Scholar Award by the University of Miami Faculty Senate. So to talk to a native Chinese person about the real life implications of what I've only studied in books and in class is an extremely rare and valuable experience. Just another reason why I believe any language student should, by any means, find a way to immerse themselves not only in their target language but also in that culture.
---
Ashley Brooks is a rising junior with a double major in Political Science and Spanish. Her minors are Arabic Studies and Modern Languages and Literature.
July 5, 2017
This weekend brought my first large ventures outside of Tangier. Friday and Saturday, my classmates and I ventured out to a beach town called Asilah. Living in Miami has certainly spoiled me when it comes to beaches, however, Morocco's beaches have not let me down. Tangier itself has exquisite beaches similar to South Beach, yet, part of Asilah's allure is its small population. Another one of Asilah's attributes? Its seafood. I am not afraid to say I ate calamari for breakfast, lunch, and dinner in Asilah. In between lounging on the beach and eating, my group explored the old city or "medinah," as groups of ancient buildings are called in Morocco. Excellently preserved, Asilah's medinah featured blue and white buildings with ocean views.
Sunday, we drove out to Lksar Sghir which lies about 40 minutes outside of Tangier. Lksar Sghir used to be a fort for whoever ruled the region at the time. The castle shifted between Arab, French, Spanish, and Portuguese control frequently over the course of centuries. Now, the castle remains under Moroccan control; its picturesque beaches once used for international trade and commerce now host the few locals who journey over mountains for the impressive view. From the beaches of Lksar Sghir one can actually view Spain; only seven miles separate the two continents.
For those considering visiting Morocco, the food is reason enough to go. If you need more convincing, consider the rich architecture or unique culture as a result of Morocco's intercontinental roots. Either way, there's surely something for everyone to enjoy in the "maghreb."
---

Ashley Brooks is a rising junior with a double major in Political Science and Spanish. Her minors are Arabic Studies and Modern Languages and Literature.
July 3, 2017
Those familiar with UM's Coral Gables campus all know of a rowdy group who inhabit the campus and run amok. No, I am not talking about UM's freshmen residents, but rather the stray cats on campus. Presumably, somewhere upwards of 50 cats are visible across campus as students walk to class. Surprisingly, Tangier appears to have even more felines per square foot. It's hard to walk around Tangier without stumbling into one, two, or maybe four feral cats. 
It can be heart-wrenching to see countless animals on the street. However, like many things about studying abroad, one must simply adjust. There are abundant stark differences between Miami and Morocco, yet, it is unreasonable and perhaps foolish for me to want to tweak each scenario so that it suits my comfort. The single most valuable skill students receive while studying abroad is the ability to quickly adapt and respond, often in a different language. Sometimes the challenges I run into lead me on a wild goose chase to find antibacterial soap, paper towels or trash bags. I may even have to ask how to say something in Arabic only to find out the French word is more commonly used. However, increasingly often I find myself just laughing and going with the flow. 
Here in Tangier, tacos are a "French" delicacy, only certain taxis will go outside city limits, and business hours are spontaneously decided. Nevertheless, despite frequent culture shock and relentless mosquito bites, much like the resourceful cats of Tangier, so far I've managed to land on my feet. 
---
Asia Cadet is a rising senior with a double major in Criminology and Political Science, and a minor in Modern Languages. She also is president of UM's Haitian student organization, Planet Kreyol.
June 28, 2017
My first week of class in Changchun has been amazing so far!
One of the best things about Critical Language Scholarship Program (academically) is the small class sizes. My class has two professors and six students; the class size makes it so much easier to practice my Mandarin pronunciation and we are able to do fun activities together like debates and weekly presentations. The hardest part of the program though, is the language pledge.
On Monday, every student signed a pledge that we would not speak English with each other or faculty at any time over the next 8 weeks. Outside of class, me and my classmates spend a good amount of time mastering non-verbal communication (and looking pretty silly while doing so).
It would honestly take three whole pages to share every activity and strange encounter from this week, but I can give you all some examples!
On Tuesday, as part of our culture class, me and my classmates were able to paint traditional Chinese opera masks and wear them around campus. On Wednesday, a few friends and I decided to go the school track to do homework and watch other students learn Tai Chi. Twenty-five minutes after we arrived, a torrential downpour started (even worse than in Miami, I promise). With nowhere to go and no umbrellas, we decided the best use of our time was to take a jog in the rain.
On Thursday after class, my language partner, a native Chinese speaker, and I went to the city's best Korean BBQ restaurant and ate an insane amount of food for only $6 per person. Then on Saturday, as part of another CLS activity, we woke up at 5 a.m. to dance with the elderly in the park. In China, it is common for the elderly to dance, do Tai Chi, and practice kung fu/sword throwing in public areas early in the morning/evening as a form of exercise. In the northeast, this is even more common in the morning because the sun rises around 4:00-4:30 a.m.
Afterwards, we ate an authentic Chinese breakfast of dumplings, rice porridge, eggs, potatoes, and chicken feet (to name a few dishes). I think what makes the Critical Language Scholarship Program so unique, aside from the fully paid for experience, is that, even though we are here for 8 weeks, the program is not shy about throwing us right into the midst of Chinese culture. Immersion is the absolute best way to learn any culture and language and, by the end of this program, I know my understanding of China will have grown so much!
Until next week,
Asia Cadet (柯亚诗)
---

Ashley Brooks is a rising junior with a double major in Political Science and Spanish. Her minors are Arabic Studies and Modern Languages and Literature.
June 23, 2017
My passion for Spanish piqued my interest in Arabic, and this summer my studies of the Spanish-speaking world have led me to Tangier, Morocco. 
It was during a Spanish class about the culture of Spain that I was fascinated to learn about the centuries-old links between Hispanic people and the people of the Middle East. The modern day similarities between the two languages, despite being from completely different language families, are a visible remnant of this relationship.
Upon learning this, I began taking classes in Arabic and immediately I began to see connections. The interconnectedness of languages and cultures in places where we least expect it is what motivated me to continue my studies of Arabic in the Middle East and North Africa.
I'll be studying in Tangier as part of the Critical Language Scholarship program, a scholarship that encourages students to pursue their passion for languages that not many Americans study. For example, Persian, Urdu, Bangla, Korean, Arabic, Hindi and Chinese; these are just some of the languages that students can study for an 8-week period over the summer.
I arrived in Tangier on the 18th of June and the adventures have already begun! Every morning, I walk about a mile to the school I study at. As my roommate and I careen through busy alleys and markets piled high with watermelon, ("deleh" as it is called in Darijah) we learn more and more about the nuances of Arabic and Moroccan culture. I am fluent in Spanish and have studied Arabic for over a year, yet nothing could prepare me for the dialect of Arabic that is "Darijah," a fast-paced swirl of French, traditional Arabic and even a little Spanish. Overall, I'm quickly adjusting and learning my way around Tangier. Over the next few weeks, I can look forward to camel riding, desert camping, traveling across the country and all the watermelon I can eat. I cannot wait to update the UM community with more stories of my time in the "Maghreb."
---

Asia Cadet is a rising senior with a double major in Criminology and Political Science, and a minor in Modern Languages. She also is president of UM's Haitian student organization, Planet Kreyol.
June 21, 2017
This week was the first week of my Critical Language Scholarship Program in Changchun, China. After pre-departure orientation in Washington, D.C., our CLS Changchun group (28 people total) spent almost a day travelling from D.C. to Beijing, and then Beijing to Changchun. What's amazing about Changchun is that it is in the northeast of China, and is extremely close to both the Russian and North Korean borders!
This city is so far north that no American airline flies to it and we had to switch to Air China after landing in Beijing. The last few days have honestly been so hectic. We've had to participate in orientation, a citywide scavenger hunt, and placement tests for our Mandarin classes. But we've also been getting to know each other and this CLS group is one of the funniest and most charming groups of people I've ever met!
I can already tell we will all be friends long after the program ends in August. So far our group has been out to eat hotpot, a popular Chinese meal where everyone eats out of one boiling "hot pot" of meat and vegetables, and our scavenger hunt involved eating chicken feet and learning the Chinese national anthem.
Later this week, the program will get even more intense when we sign our language pledge, a pledge stating that we will not speak English to each other or to teachers for the next eight weeks! All in all, it's been a really eventful time in Changchun thus far. I can't wait for classes to start this week!
---