Clear your lunch plans, Hurricanes. On Wednesday, students, faculty and staff can navigate a series of booths to learn about and sample sustainable, organic and locally-sourced foods during Food Fair, which is all part of Food Day 2018. The fair, which will be held on the first floor of the Whitten University Center, is one of the most visible events of Food Day.
Yet the fair is just one part of a three-day event that starts today and is put on by the University of Miami's Office of Civic and Community Engagement, in partnership with  Green U, the Abess Center for Ecosystem Science and Policy and the Butler Center for Service and Leadership, along with many other UM sponsors. The annual Food Day celebration aims to make students aware of healthier food choices, as well as the need to improve local and national food policies, said Marisa Hightower, associate director of the Office of Civic and Community Engagement.
"Food Day is a national event where everyone is celebrating the opposite of fast food—local sustainable, organic food," said Teddy LHoutellier, UM's sustainability manager, who is helping to organize the event. "It's a celebration of this alternative food network—from the growing of our food to the distribution of that food through farmer's markets and community supported agriculture (CSA boxes) and some distribution centers, like Whole Foods. But it's also about awareness and education."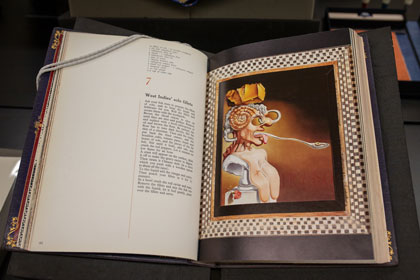 The events will begin with a walk through UM's arboretum with curator Tim Perez this afternoon at 4:30 p.m., highlighting the trees that contain edible fruit.
Then, on Tuesday night, Oct. 23, there is a 6 p.m. screening of "Forks Over Knives" a documentary that explores the idea that many diseases that are afflicting people today may be prevented by eliminating animal-based and processed foods from our diets.
Finally, on Wednesday, Oct. 24, the Food Fair will run from 11 a.m. to 2 p.m. Later that evening, at 6 p.m., there will be a reception and panel discussion in the Kislak Center titled "Locally Grown: Food Advocacy and Sustainability in South Florida" moderated by LHoutellier and featuring experts from organizations that include Slow Foods Miami, Wellness in the Schools, the Urban Oasis Project and Health in the Hood, which work to educate Miami residents from underserved communities about buying and eating healthier foods, as well as growing community gardens. In addition, the panel will feature Drigo the Alchemist, a local vegan chef, and Taryn Dennie, President of the Food Recovery Network, a student organization working to take wasted foods from local businesses and dining halls and donate them to hunger-related nonprofits.
"Overall, we want to bring awareness to students about what is happening locally, domestically and globally about veganism, the sustainability of crops internationally, and more," said Hightower.
To read more about Food Day 2018 and to register for the reception and film screening, visit the website: https://greenu.miami.edu/topics/food-and-well-being/food-day/index.html
---