Tuesday, Sept. 3:
President Frenk message to the University community Tuesday morning
Dear University of Miami Community,

We continue to monitor Hurricane Dorian, following the advice of the National Hurricane Center, state and local government sources, and experts from our Rosenstiel School of Marine and Atmospheric Science. With this information, the University leadership team believes that conditions will improve sufficiently for classes to resume safely on Wednesday, September 4. While a majority of our students remained in or near Miami-Dade County, we know that some who traveled out of the area may now find it difficult to return in time for classes on Wednesday.

Let me assure you that we are mindful of these logistical challenges and that the safety of our students remains our number one concern. Early yesterday Provost Jeffrey Duerk conveyed to our faculty the need for accommodation, flexibility, and empathy in working on a case-by-case basis with those students who are unable to return on Wednesday.

Our teams have been hard at work preparing our campuses for the return of students, faculty, staff, and patients. This includes ensuring that all students can resume their classes without undue burden from the impact of Hurricane Dorian.

I want to thank everyone for their efforts in keeping the lines of communication open and urge you to continue following important updates in our Storm Alert advisories and on our social media platforms.

We look forward to the safe return of all 'Canes and to the resumption of our important work.

We Are One U,  
Julio Frenk
President, University of Miami
Monday, Sept. 2:
Provost message to faculty Monday morning
Dear University of Miami Faculty, 
I hope this message finds you and your families well as our community continues to monitor the weather forecasts and the track of Hurricane Dorian. In light of the current forecasts and as indicated in prior University storm alert advisories, we are currently planning for classes to resume on Wednesday, Sept. 4. Please continue to monitor the UM Emergency Management Notification: Hurricane Dorian - Situation Reports as the storm remains challenging to predict and some items remain fluid.  As we return to normal, please think of our students. 
For many of our students, preparing and responding to Hurricane Dorian has been a very anxious and stressful experience.  In particular, our first year students were adjusting to only their third week in college, when they were faced with the additional stress of managing and making decisions regarding an uncommon and dramatic weather emergency.  Many students made the decision to leave campus and/or the Miami area.  
As we ramp up classes for the remainder of this week, I ask that you accommodate those who left campus and may experience some challenges returning to school on time.  Be understanding and lenient.  Show empathy and compassion.   Do not penalize those who may not be able to make it to the initial resumption of classes as we all know the complexity of post-storm travel.  'Canes care for 'Canes - and now is a great chance to demonstrate a basic tenet of our campus life.
My sincere thanks for your patience as we all manage the return to normal schedules and operations.  Your deans and the Office of Faculty Affairs will be available to provide you additional information (Gables/RSMAS Campus 305-284-1581; facultyaffairs.cg@miami.edu) (Medical Campus 305-243-6551;facultyaffairs@med.miami.edu). 
Warm Regards,
Jeffrey L. Duerk, Ph.D.
Executive Vice President and Provost
---
Campus in waiting
The Coral Gables campus is serene on the Labor Day holiday. Due to Hurricane Dorian, classes have been canceled for Tuesday, Sept. 3, but will resume on Wednesday, Sept. 4. Get the latest details at storm alert advisories.
Photo: Diego Meza-Valdes/University of Miami
---
Hurricane hunters
University of Miami scientists, researchers, and faculty have been heavily involved in providing critical information and explanation on Hurricane Dorian to numerous media outlets nationally and across the globe.
Brian McNoldy, a hurricane expert and senior research associate at the University of Miami Rosenstiel School of Marine and Atmospheric Science, publishes his own blog, Tropical Atlantic Update, which is providing up to date information on the storm.
McNoldy is also part of a team of researchers and meteorologists that provides weather information for The Washington Post. The "Capital Weather Gang" has been busy reporting on Dorian from numerous angles.
---
Alberto Cairo, associate professor and Knight Chair in visual journalism at the School of Communication, partnered with Tala Schlossberg, a visual journalism fellow at Times Opinion, to produce an interactive graphic story about hurricane maps for The New York Times.
Those Hurricane Maps Don't Mean What You Think They Mean, takes the user through a series of images and explains how people interpret—or misinterpret—them, despite attempts by experts to explain them in great detail.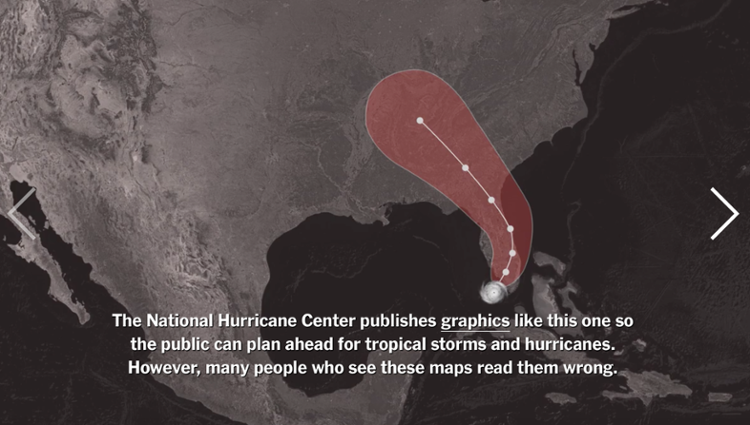 ---
Saturday, Aug. 31:
A Message from President Julio Frenk
Watch this video message, and for the latest information from the University about Hurricane Dorian, visit https://news.miami.edu/stories/2019/08/latest-information-on-dorian.html, continue to follow us on social media, or call the University hotline at 800-227-0354. 
---
Friday, Aug. 30: 
Preparation is the key
Jeffrey Duerk, provost and executive vice president for academic affairs, has one main message for students.
"Be safe. That's the most important thing," Duerk said.
As it stands now, classes have been canceled through Tuesday, Sept. 3. Any further announcement will be communicated through Storm Alert Advisories. It's good that we're early in the fall semester, Duerk added, so there is time to make adjustments, if needed.
Faculty and staff, Duerk said, have been working to secure special collections and research projects on campus, and the University is benefiting from the lessons that were learning when Hurricane Irma struck Florida in 2017.
"Everyone, faculty and staff, have been incredibly helpful," Duerk said. "I'm so proud of them and the support they have given."
---
Ready on all fronts
Across the campuses on Friday, crews continued to work on securing buildings by clearing rooftops, ensuring storm drains are clear, and shuttering any windows that are not impact resistant, said Alexander MacNamara, associate vice president of Facilities, Operations and Planning at the University of Miami. 
"Our expectation is that all shuttering will be complete by Saturday evening," MacNamara added.
Facilities staff members are also working to remove anything that could become flying debris, such as outdoor furniture, umbrellas, and any trash or tree limbs, MacNamara said. To mitigate flooding, workers are also placing sandbags around doors throughout the three campuses, although they will have a clear entrance and exit at each residential hall.
"We have team members staying here throughout the storm, so we can mobilize as soon as it's safe," said Jessica Brumley, vice president of Facilities, Operations and Planning.
Once the storm has passed, facility assessment teams will survey any damage. Workers — using equipment already staged around campus — will begin any recovery efforts needed. Their priority will be clearing the roads first, and then inspecting buildings for damage starting with student housing, MacNamara said.
"Our priority is the safety of our students and staff and our goal is to open campus as quickly and efficiently as possible to be able to resume normal operations," MacNamara said.
---
Parking Services:
Emergency parking plan has been initiated for all garages, effective 5:00p.m. Thursday, Aug. 29, as follows:
Pavia, Merrick, University Village, and Mahoney/Pearson Garages: open on a first come first served basis to all UM students, faculty, and staff irrespective of the assigned parking zone. A parking permit is not required, but a UM Cane Card must be shown at the entrance in order to gain access.
Ponce Garage: open to UM vehicles, Emergency Operations Center staff, Rumor Control Hotline staff and Lennar Foundation Medical Center staff ONLY.
For more information, visit the Parking and Transporation site: http://pt.fop.miami.edu/other-services/news-and-updates/index.html
---
Library service at the University of Miami:
Closures on Friday, Aug. 30:
Richter Library: Closing at 5 p.m.


Calder Medical Library: 

Closing at 5 p.m.


Buisson Architecture Library: 

Closing at 12 p.m.


Newman Business Library: 

Closing at 12 p.m.


Weeks Music Library:

 Closing at 12 p.m.


Rosenstiel Library: 

Closing at 12 p.m.

Law Library: Closing at 5 p.m.
Richter Library to reopen Saturday, Aug., 31, from 9 a.m. to 4 p.m.; closed Sunday and Monday, Sept. 1-2. Law Library open 8:30 a.m. - 4 p.m. Saturday; closed Sunday and Monday.
---
Shuttle Service:
A shuttle service to local stores will be offered to students to shop for supplies. The shuttle will operate from noon to 8 p.m. on Friday, Aug. 30, and Saturday, Aug. 31, or until stores close. Shuttle route:
Pick up at lot 721 (near University Village)
Proceed to Architecture Circle
Proceed to lot 310 (near Mahoney and Pearson)
Proceed to CVS at University Center Shops, then to Publix, Whole Foods, and back to campus, following the route described above
The shuttle will make 30 minute round trips
Campus shuttles: Rosenstiel shuttle will follow a normal schedule Friday; Coral Gables shuttles will follow a normal schedule Friday through noon and a reduced schedule after noon. Riders can track shuttles at
https://www.umshuttles.com/map
or via the University app.
---
---