For first-year students gearing up to take their first final or for the seasoned seniors preparing for their last exam—we asked University of Miami students to share some wisdom as to how they prepare for finals week, which begins Thursday, Dec. 5 and ends Wednesday, Dec. 11.
Creating a strategy for acing your final exams ahead of time can help alleviate some of the stressors that may come along with it.
---
Here's what some students said helps them make it through the final stretch:
Carolina Garcia (left), first-year student, biology major, Miami, Florida
"Start studying as soon as you can. It's always helpful to study ahead. Also, just review and practice, practice, practice! My favorite place to study on campus is on the second floor of the library."
Gabriella Novo (right), first-year student, Health Sciences major, Miami, Florida

"I like studying with my friends because we can teach each other things. I also like writing things down because it helps me to memorize things faster and better. I have a notebook for each class and I like to color code things–so every class is a different color. I also like to divide my folder by tests, so each folder is a separate topic."  
---
Natalie F., junior, engineering major, Long Island, NY
"When I start studying, I go over a chapter and I take notes on that. For a lot of my classes, they give us practice problems so I try to do those without getting any of them wrong. If I do, I will keep practicing until I get them right. My favorite place to study is on the first floor of the library."
---
Marcos Scarda, senior, Real Estate and Finance major, Long Island, NY
"The way that I study best is just completely by note cards. I have thousands of them. My favorite place to study is at home where it's quiet but if I am on campus, I study in the 'fishbowl' at the Miami Herbert Business School."
---
 Zev Chesal, 1L law student, Hollywood, Florida
"I need to study with a group. The reason for that is because if somebody spends a half-hour on Instagram, then someone would be there to get them back in line. I also feel a greater sense of responsibility. Like, if I get something wrong, and it's just myself getting it wrong, it's different but when it's myself and a friend, we get to learn from one another and it's like an accountability group. I like to study in the law school student suites—it's great for law students to collaborate."
---
Sandy Carpenter (right), first-year student, Nursing major, Miami, Florida
"The thing that I've found is most helpful is finding a study buddy. Also, try to plan your time accordingly. My favorite place to study on campus is on the second floor of the Shalala Student Center looking out at Lake Osceola." 
---
Fatima Husain, junior, Pre-Physical Therapy major, Saudi Arabia
"For the past two semesters, I have tried to study every day—even on the weekends. So when the exam comes I don't feel so much pressure. It's really helped a lot. My favorite place to study when I need to really focus is in the library, but when I am just reading ahead I like to sit outside and enjoy the fresh air." 
---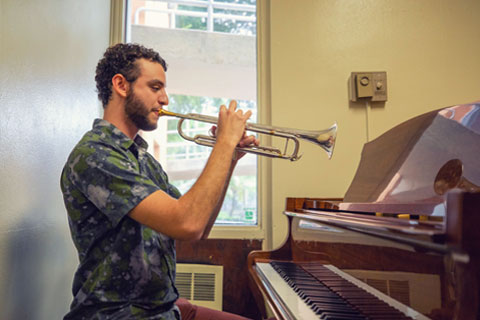 Jason Charos, junior, Jazz Trumpet performance major, Tampa Bay, Florida 
"Practice whenever you can, wherever you can. It's easy for me because I can practice wherever because of the type of instrument I play, but for others securing a practice room is key. I live off-campus so I like practicing outside a lot--thankfully my neighbors don't mind." 
---
At UM, students have access to a wide range of academic resources at their fingertips. From the Camner Center for Academic Resources to The Writing Center—there is a multitude of resources provided to help manage success and advance potential.
Looking for a place to study? Here are some spots dedicated to providing a space for those looking to study around-the-clock:
Richter Library, open 24 hours now through Wednesday, Dec. 11.
Kornspan Study Lounge in the Shalala Student Center, open 24 hours through Wednesday, Dec. 11.
Whitten University Center, open 8 a.m. until midnight through Thursday, Dec. 13
Law School Student Organization Suite, open 24 hours through Wednesday, Dec. 11.
---