When classes ended abruptly a few weeks ago for a transition to virtual lessons, many first-year students at the University of Miami Miller School of Medicine started to recognize the severity of the COVID-19 outbreak.
But instead of stepping back from the crisis, many students wanted to help.
When Alison Ohringer, first-year class president, sent a group chat asking students if they wanted to lead a project to help local health care providers, 20 responded within a couple of hours. From there, the group blossomed.
"All these health care workers are our future colleagues, and they are on the front lines of this directly interacting with patients. So, their sacrifice has not gone unnoticed," Ohringer said. "We felt like this was the least we could do for all of those providers putting themselves in harm's way to take care of our community."
Now, there are 150 University of Miami medical students involved in Miami Med COVID Help, a nonprofit organization that aims to support health care personnel at hospitals affiliated with the University, including UHealth and Jackson Memorial Hospital, as well as 40 other hospitals across South Florida. The group is working with administrators and faculty members to coordinate donations of personal protective equipment (PPE) and other items, mainly to the emergency departments.
"Their donations support the emergency departments at multiple hospitals—although Jackson Memorial Hospital and Holy Cross Hospital are the primary focus for donations, because those are the two Emergency Departments where most of our residents and medical students rotate through … as well as where our UM emergency medicine faculty work," said Dr. Jennifer Jackson, assistant professor of emergency medicine and emergency medicine clerkship director and faculty adviser. 
Miami Med COVID Help is part of a cadre of alumni families and University staff members hoping to support doctors, nurses, and other staff members associated with the institution who are risking their health to serve patients.
Early in the formation of the group, Ohringer reached out to Jackson, because as the faculty adviser for emergency medicine, she could coordinate with the medical students and the emergency departments' administrative leadership. Therefore, she is able to learn about the ongoing PPE and COVID-19 support needs in many locations.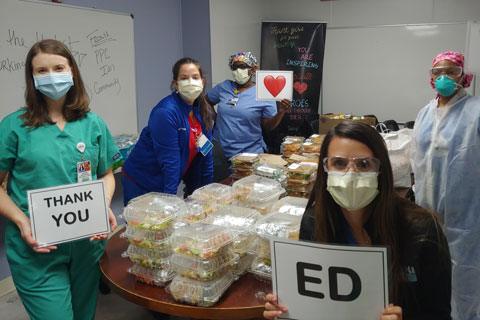 At first, the group started offering to do errands for overworked health care providers, such as a grocery or pharmacy pickup, walking a pet, or retrieving packages, according to Ohringer. But as the epidemic quickly progressed, they started asking local businesses and residents for donations of PPE, such as masks, face shields, gowns, and scrubs and shoe covers, she said.
Ohringer now spends time each day receiving and sorting donations at her apartment and delivering PPE to South Florida hospitals. National organizations like GetUsPPE—which is donating more than 20,000 face shields—and MedSupplyDrive are also funneling their donations to hospitals through Miami Med COVID Help. In addition, the group is organizing physically distanced donation drives for local residents to drop off PPE. There are three drives being held this Sunday from 10 a.m. to 4 p.m. at Kendall Methodist Church, 7600 SW 104th St., Miami; at Temple Emanu-El, 1701 Washington Avenue in Miami Beach; and at the Publix in Mary Brickell Village, 134 Southwest 13th St., Miami.
With help from local businesses, Miami Med COVID Help is also taking advantage of 3D printers to produce plastic face shields for health care workers. Ohringer and her team are working with Velossa Tech Engineering, a business based in Hollywood, which is donating the materials and labor to produce 8,500 face shields that the student group had doctors test before finalizing.
Moonlighter Makerspace of Wynwood picked up a one-ton donation of plastic sheeting from the Coca-Cola Company and is helping them to laser cut it for the shields. Ohringer is also coordinating with a University-wide task force led by Jean-Pierre Bardet, vice provost of strategic projects, to create innovations that could help combat COVID-19. In particular, they are working on prototypes for a more robust type of head protection for health care workers.
Recently, Miami Med COVID Help was able to incorporate as a nonprofit, so they are now collecting monetary donations on a GoFundMe page, which are being used to pay for materials for 3D printing production, as well as individually packaged meals and care packages for emergency department staff members.
When Jackson and Ohringer delivered meals to the emergency department at Jackson Memorial Hospital last week, the food was gone in less time than it took to lay out the cartons, Jackson noted. The duo is now trying to provide meals on a weekly basis for the night and day shifts.
"People were really excited and happy, especially some of the ancillary staff," Jackson said. "They appreciate it because now that things may be tighter in life financially, these donations really help."
With every delivery of PPE and food, comes a delivery of handmade appreciation cards made by the medical students and their families or friends.
"The emergency staff loves them," Jackson remarked. "Each card or note puts a smile on their face and are really appreciated and uplifting during these trying and difficult times."
By last week, Miami Med had collected more than 24,000 face shields, 10,000 gloves, 2,100 face masks, and 80 sets of new scrubs. They would like to distribute more of these, but are also hoping to gather more shoe covers, surgical gowns, hand sanitizer, cleaning supplies, iPads or tablets, fingertip pulse oximeters, and thank-you cards or notes for health care providers, Ohringer said.
As the pandemic continues, Ohringer and 23 other student leaders, who are coordinating the efforts, communicate weekly via Zoom. Although most of her time is devoted to Miami Med COVID Help these days, Ohringer said she knows it is worth it. When she dropped off one of the first boxes of PPE at a local hospital, she said a nurse thanked her for helping him stay alive. Thinking he was being sarcastic, she smiled.
"I thought it was a joke; but when I looked up, he was serious," she said.
All in the Family
Siblings Rebeca, Michael, Andrew, and Jose Bared, also wanted to use their expertise to help. Through Bared Design, their design and architecture studio founded in September 2019, the four are working to produce up to 60 protective face shields a day for health care workers at UHealth and the Miller School of Medicine. This is the studio's first time developing medical-grade equipment, Michael Bared said. 
"UM is a very important institution to our family," said Rebeca Bared, whose grandfather Jose P. Bared is a long-serving senior member of the University's Board of Trustees. "Any chance we get, we are willing to connect. Our family has longstanding ties to the University, and we are proud to support it."
After designing three prototypes and delivering 30 shields of each design to UHealth's Emergency Management and Infection Control departments for testing, they have finalized an approved design that will yield a total donation of 3,000 3D-printed face shields. The visors will be 3D printed out of PETG, a medical-grade plastic that can be sanitized and disinfected. The clear, plastic shields that clip on to the visor are developed out of transparency paper.
College of Arts and Sciences lends its extra supplies to hospitals
A few departments in the University's College of Arts and Sciences also donated protective gear to the University of Miami Health System.
With chemistry labs and art studios devoid of students who are now learning online, the face masks, goggles, and gloves they wore when mixing solvents or cutting wood sat idle. Now, the protective equipment is in the hands of doctors and nurses at the University of Miami Health System—who are bracing for an expected surge of hospital patients with COVID-19. For Leonidas C. Bachas, dean of the college, contributing the gear was a no-brainer.
"It's important for us to share our resources and support doctors and nurses with much-needed goggles and gloves so they can protect themselves and their patients during this public health crisis," said Bachas.
The Art and Art History Department donated 60 N95 masks that art class students often wear when cutting and sanding wood, grinding metals, or mixing plaster or clays. The Chemistry Department donated approximately 1,250 pairs of gloves, and the Chemistry Club provided 180 unused goggles that it had purchased for resale to help fund their organization.
---