Just two days before the video of jogger Ahmaud Arbery's shooting death in southern Georgia went public last month, Ahzin Bahraini posted a zany video to encourage donations to the nonprofit she founded last year to help underserved high schoolers apply to college.
Wearing a horsehead mask in Publix, Bahraini trotted down the store aisle, grabbing and tossing laundry detergent and other essentials for dorm life into a shopping cart. Posted on Instagram, the video was yet another light-hearted attempt by the University of Miami graduate student to raise awareness for Ketáb's dorm supply drive, which concluded two days later.
But any satisfaction that Bahraini derived from the headphones, laundry baskets, mattress pads, pillows, towels, slow cookers, trash bins, bean bag chairs, and other donated items that filled her apartment on May 5 was short-lived. When the Ph.D. candidate in sociology saw the video of Arbery dying at the hands of two white men, she stepped out of her academic bubble and onto the public stage as a community advocate.
"It really struck a chord. Ahmaud died near Brunswick, where my brother lived," said Bahraini, the daughter of Iranian immigrants who was born and raised in Atlanta. "I was really upset about it. I took a dark turn."
Calling Arbery's death "a modern-day lynching," she shed her reluctance to speak out on Instagram, and began the journey that, two days after George Floyd died on a Minneapolis street with an officer's knee on his neck, compelled her to organize a protest against racist policing in the unlikeliest of places—the affluent, white enclave of Coral Gables where she lives and studies how the color of a person's skin affects every facet of their life. 
"I'm not even white, but Ahmaud's death triggered my own internal white-silence-is-like-white-consent moment," Bahraini said. "I thought, 'If I don't do anything, if I don't even speak up, what's even the point of grad school? Why am I learning this stuff in the first place?' Then George Floyd happened. Those back-to-back killings made me realize we can't wait for tomorrow's leaders. We're here right now. And we need white people to join us, to accept responsibility for the systemic racism that is rooted in our nation."

For their safety and to keep the focus on the community, Bahraini and two other Ph.D. candidates in the Department of Sociology, who helped organize the Coral Gables protest, didn't disclose much about themselves when, on May 27,  Bahraini created the Protests Miami account on Instagram and posted a flyer calling for collective action. Three days later, more than 500 people of all ages and colors answered the call, marching down Miracle Mile to demand justice for Floyd.
Yet the students took a lot of heat for their anonymity and for accepting Coral Gables Police Chief Ed Hudak's invitation to begin a dialogue with the chiefs of police from Miami-Dade's 34 police departments after the protest. Skeptics questioned their authenticity, their motives, and their right to speak up on the Black Lives Matter movement. 
But Bahraini emphasized that Protests Miami was a platform to amplify, not speak for, the voices that needed to be heard. That message, coupled with the image of nearly two dozen police chiefs kneeling in solidarity with protesters, seemed to quell the critics and pave the way for the second community dialogue with police two weeks later. It included what Bahraini acknowledged was a "super idealistic demand": that police across Miami-Dade not kill a single, unarmed black or brown person over the next year.
"As researchers, we asked: do we want to be practical and demand the possible, like better data or protocols—stuff that doesn't change the foundation but helps identify the problem?" she said. "But then we decided we aren't just researchers. We are community advocates, and we should address the impossible and be outrageous with the demands. It's better to shoot too high and have to settle lower than not high enough and never know how good it could have gone."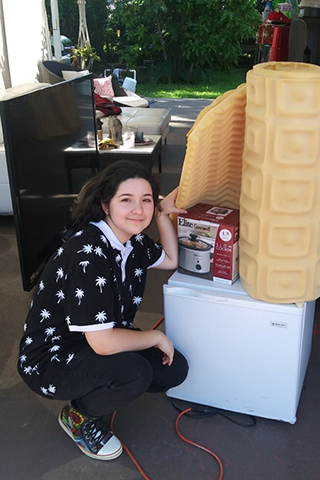 Bahraini set a similarly impossible goal of closing the education equality gap when she launched Ketáb in January 2019. Meaning "book" in Farsi—which she speaks along with Spanish—the organization helps underserved high school students apply for college and financial aid and polish their résumés, essays, and personal statements. But it has the idealistic vision of a nation "where all students, regardless of their parent's income, regardless of their skin color, and regardless of their gender, all have access to a quality higher education."
Bahraini said she came up with the idea because, as a longtime tutor in high school and college, she saw stark contrasts between the quality of her own education and that of the students she mentored. "So, I had to decide: do I want to continue being a tutor, or do I want to address the problem at its foundation?"
Opting for the latter, she had key help from Jan Sokol-Katz, the director of undergraduate studies in sociology and criminology, who approved three-credit internships with Ketáb for students interested in helping high school students navigate the college application process.
Until the coronavirus pandemic closed local schools, Bahraini and the interns visited American Senior High in Hialeah every Wednesday, providing one-on-one college advice and guidance to a few dozen students after school. Most were, like Sofia Chacon, the first in their family to have the opportunity to consider college.
"Ketáb was super, super helpful for me and a bunch of students at American," said Chacon, who is headed to the University of Central Florida to study civil engineering. "In our school, I don't think people really know how to write an essay. Mine was a jumbled mess, with lots of different sections of what I wanted to say, but no structure," she added. "Ahzin helped clean it up. She helped me with transitions, word usage, and my grammar. I think it made a big difference."
So, too, Chacon said, will the mini-fridge, rice cooker, mattress pad, and other items her admission letter enabled her to select from the dwindling pile of items that Bahraini almost single-handedly collected during Ketáb's inaugural dorm supply drive—just before she was compelled to expand her mission to end racial disparities in education to policing. 
"It's all related, and it all goes back to slavery," Bahraini said. "Racism is rooted in every system, and people need to realize that we created and sustain the system. It's not some crazy, autonomous thing. People run it. We made the system and we can change the system."
---