In two separate fall commencement ceremonies on Friday, legal icons Hilarie Bass and Jaret L. Davis, who both rose to top management positions at one of the nation's largest law firms, challenged University of Miami graduates to use their less-than-optimal finale as even more of an incentive to improve the world through their careers.
"For the rest of your lives, you will be able to say you lived through the extraordinary trifecta: a global pandemic, a once-in-a-generation—possibly once in two generations—focus on social justice, and, I'll simply say, fascinating politics," Davis told the undergraduates at the 3 p.m. commencement ceremony. Originally scheduled for last May, it was postponed because of the pandemic. "It's been disorienting. It's been exhausting. It's been taxing. But I can guarantee that you will look back and realize that this is the year in which you realized adversity produces greatness."
---
Read about Thursday's fall commencement ceremonies.
---
Davis, a double alumnus who through his leading role at Greenberg Traurig is helping to elevate Miami as a technology hub, told students who tuned in to the Friday afternoon ceremony that he speaks from some experience. He started off his freshman year in 1992 after Hurricane Andrew devastated Miami-Dade County. The destruction framed his entire undergraduate experience, pushing the start of classes to October and turning the campus into "a war zone."
"All the usual staples you take for granted were dramatically altered," he said. "And you know what happened as a consequence? We found ourselves. Who we are. What we stood for. And what it means to live for a greater purpose," he said emphatically. "We ceased to be business students, or architectural students, or volunteers, or Greeks, or students of color. We became Hurricanes, because we recognized that the struggles and challenges faced by one were faced by all."
Friday's commencement ceremonies for the School of Law and the May 2020 undergraduates were held virtually because of a recent spike in COVID-19. More than 2,500 graduates were honored during the two ceremonies.
"Hard as we tried to have each of you cross the stage in person, in the end, we simply could not encourage travel to South Florida," Frenk told the graduates from Coral Gables. "We all had to sacrifice for the sake of our community. And you have demonstrated this year that you believe in the common good and that you are willing to sacrifice for it. That is the lesson of a lifetime."
Throughout the ceremonies, a gallery of square screens featuring beaming students in their signature caps and gowns filled the livestream, with many throwing up the U whenever they were featured. Some sat at home donning their graduation gear with a pet on their lap, others tuned in while they were driving, and others even attended while at work.
Frenk said students should celebrate their accomplishments and know that hope is coming, with vaccines expected to be distributed to the first U.S. recipients within days. If conditions improve, he suggested that there may be some more celebrations at Homecoming 2021, should the alums return to Coral Gables.
Bass, a 1981 graduate of the School of Law and former president of the American Bar Association who chairs the University's Board of Trustees, told the more than 400 law graduates that even though their career paths may have changed because of the pandemic, they should take solace in the fact that they are joining a profession where they have the power to change the world. Her own pro bono advocacy helped end Florida's law prohibiting gay people from adopting children—which she calls her most personally gratifying experience.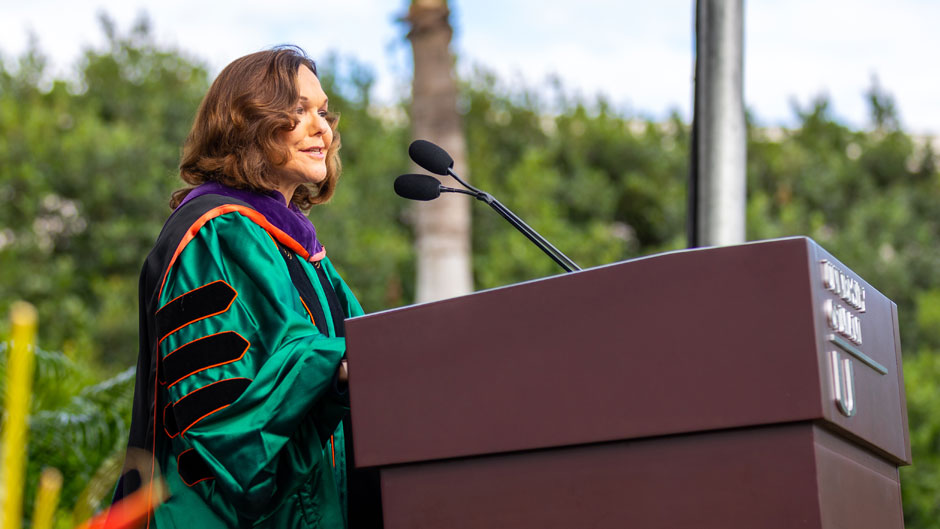 Hilarie Bass, chair of the University of Miami Board of Trustees.
"I must assume that for many of you, your excitement about getting to the end of this long road is tempered by concern about your future," said Bass, who left her post as co-president of Greenberg Traurig in 2018 to start the Bass Institute for Diversity and Inclusion, which advises companies and organizations about how to attract and retain women in senior leadership roles. "Take a few minutes today to revel in the fact that you are entering a profession that will give you boundless opportunities to have a profound effect on making people's lives better by protecting their legal rights, by helping to guide them through a mysterious and confusing legal system, and by ensuring they have access to justice," she added.
Both Davis and Bass encouraged students to use their University education to help enrich their communities. Bass suggested that School of Law graduates take pro bono cases when they can or lend their time to a nonprofit organization that fits their passion and likely needs a lawyer's problem-solving expertise. Davis mentioned the importance of narrowing the stark divisions present in American society today. He urged students to question their own inherent biases when making decisions and to be self-critical about how they conduct themselves.
After Hurricane Andrew, Davis said, "we had to rebuild a University and a city. You will rebuild a society. If each of us as leaders, as citizens, and as a family cultivate this ability to be self-critical, I believe we will complete our evolution where we replace mere tolerances of differences with a celebration of those differences and blaze a path to achieve meaningful social change."
Student speaker Derek Auguste, who fulfilled a lifelong dream of attending the University after 11 years in the U.S. Army, said he struggled a bit on his path to graduation, mostly because of his brother's death in a traffic accident at the end of his junior year and a subsequent car accident where he was injured. But he pointed out, the graduating class also had to deal with Hurricane Irma at the beginning of their college experience and the pandemic at the end.
Derek Auguste, the student speaker at Friday's fall commencement.
"This journey is a testament of our resilience and perseverance—a hurricane didn't stop us, a global pandemic didn't derail us. Rather, these events revealed our ability to think creatively, adapt and remain flexible to an ever-changing environment," said Auguste, who majored in political science and is planning to attend law school. "Hurricanes are defined as a turmoil of force. Our time here at the U, our class of 2020, is prepared to be a turmoil of force to propel our world to be safer, cleaner, and more equitable."
Although many students said it was not ideal to attend graduation at home without their classmates, they recognized that the change was necessary. School of Communication graduate Jenny Hudak said that while some of her friends were heartbroken that they would not see each other after spring break, she was able to video chat with them during the ceremony.  Hudak said Davis' message resonated with her because of the enormity of how the world will likely change as a result of COVID-19.
"We weren't expecting to end our college like this, but the pandemic is something we will carry with us into our careers and whatever we do next," Hudak said, noting that she is excited to see how her class will shape the future. "I will definitely carry [Davis'] words with me as I try to carve out my career path in a pandemic."
—Ashley A. Williams contributed to this report.
---