As world leaders gather in Glasgow, Scotland, to discuss humanity's most pressing challenge—the climate crisis—Xavier Cortada, a University of Miami professor of practice, has been reporting his personal experiences from the ground.
Cortada's participatory art project "HELLO," which was jointly launched with Miami-Dade County Mayor Daniella Levine Cava at the Port of Miami, aims to spark conversations about the impact of the climate crisis on vulnerable communities around the world and to amplify the voices of South Florida. He has distributed hundreds of artistic name tags to engage delegates, decision makers, and conference participants to fill the name tags in not with their names, but with their fears, hopes, purposes, futures, or aspirations.
The following is a daily account of his efforts in Glasgow, Scotland.
Nov. 1
On the first day of COP26, Cortada engaged those not formally attending the global climate conference to be a part of it.
"This conference impacts every single one of the 7.8 billion people on planet Earth. Together we can act decisively to deliver a better, healthier, and more sustainable future," said Cortada.
Learn more and participate at cortada.com/hello.
Mayor Daniella Levine Cava and Cortada reconnected in the Scottish Pavilion of COP26 where they discussed Miami and climate.
Nov. 2
During Cortada's provocative "Conversation with a Tree at COP26" he stated, "If they don't succeed here, you will see a catastrophe unfold overtime across this planet."
A few hours after Cortada completed his performance, more than 100 world leaders promised to end and reverse deforestation by 2030 in the COP26 climate summit's first major deal.
Nov. 3
Cortada joined COP26 attendees from across the globe in sharing their perspectives on emotion and climate. He focused on Miami's sea level rise, the resilience of refugees who've made the coastal city their home, and the transformative power of hope.
"Connecting with others emotionally allows us to see beyond ourselves and to collaborate to problem-solve an issue that impacts us all," Cortada said.
Nov. 4
Cortada participated in the Pacific Islands Delegation's event "Amplifying Pacific Voices," where he spoke briefly about the connection between these islands and Miami, our shared plight, and intimately intertwined futures.
Nov. 5
Cortada was invited by the Environmental Law Institute as their National Wetlands Award recipient to a COP26 reception focused on connecting judges and climate scientists to address the climate crisis. He also had the opportunity to have a conversation with Myles Allen, head of the Climate Dynamics group at the University of Oxford's Atmospheric, Oceanic, and Planetary Physics Department.
Earlier he marched with thousands of people in an event where Swedish activist Greta Thunberg spoke at a rally to demand climate action from world leaders.
Nov. 6
On the 6th day of COP26, Cortada reported on "protests and rallies all over the United Kingdom and all over the world. Hundreds of thousands of individuals demanded climate action now. Failure to act spells catastrophe for all."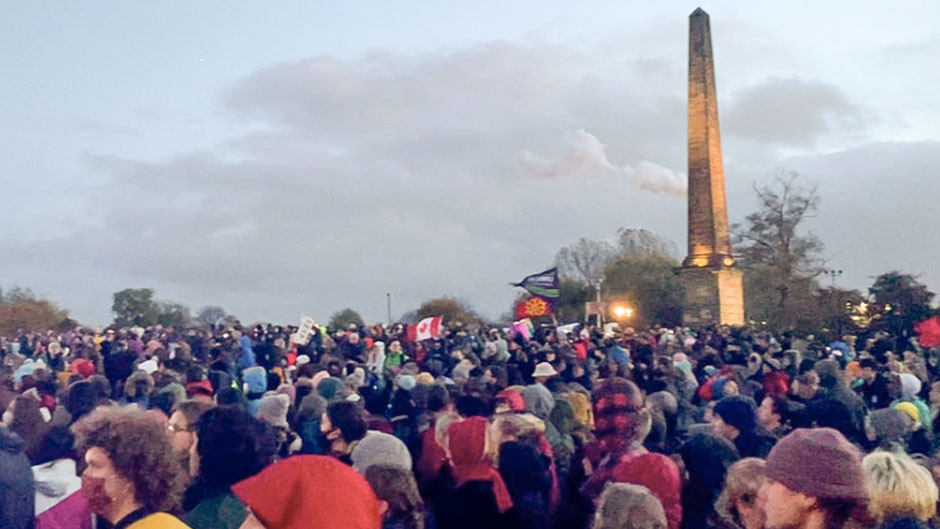 Nov. 7
Cortada knocked on the doors of an old church in Edinburgh as a metaphor for awakening "our collective consciousness" and asked "why aren't we speaking out and why aren't we doing more."
Nov. 8
On Day 8 of COP26, Cortada amplified his dialogue with conference participants by returning to "update" the tree he first had a conversation with on Nov. 2 on unfolding events.
For more in-depth reports from Xavier Cortada, visit his daily blog. If you're interested in having your voice heard at COP26 through Cortada's participatory art project, visit his "HELLO" website.
---