What if each of us had a personal DJ who could detect our anxiety or anger and cue up music to dispel it? Or if children on the autism spectrum could practice crossing busy streets without encountering real danger? Or if workers at risk for occupational hearing loss knew how to avoid the world's most common work-related illness?
Interdisciplinary teams comprising researchers and librarians from across the University of Miami have been awarded Phase I grants from the University of Miami Laboratory for Integrative Knowledge (U-LINK) to explore each of these ideas for enhancing the lives of millions of people, including those affected by mood disorders, difficulties in learning everyday tasks, and noise-induced hearing loss.
Two other teams also received Phase I grants of $40,000 to explore two issues directly or indirectly related to the most pressing U-LINK topic, climate change. Their proposals center on the managed retreat of people and infrastructure threatened by rising seas, and on the diminishing supply and safety of seafood harvested from our changing oceans and waterways.
U-LINK grantees will attend a team science workshop on Jan. 10 to learn more about the art of melding experts from different disciplines into cohesive teams that speak a common language—something researchers from different fields rarely do.
A key initiative of the University's Roadmap to Our New Century, U-LINK was launched by the Office of the Provost in 2016 to support the kind of multidisciplinary collaborations needed to address complex societal problems. This newest group of recipients is the third cohort awarded the $40,000 Phase I grants, which are intended to help teams build cohesion and refine their approach to the problem. They were chosen from a pool of 22 applications, a number that surprised U-LINK leaders.
"We were a little concerned that that we would, in some sense, run out of people who thought U-LINK was a really good idea and wanted to participate," said Vice Provost for Research John Bixby, who co-directs U-LINK with Susan Morgan, associate provost for research development and strategy. "Yet we've maintained a pretty good level of interest, which shows me that the cohort of individuals interested in this kind of work is larger and deeper than we thought, or that the interest is increasing as a result of people hearing about U-LINK and understanding what it does."
Phase I teams who complete their preliminary projects will be eligible to apply for Phase II grants of $150,000 a year for up to two years. Phase II grants are intended to advance the most promising projects to the stage where they can attract external funding, which is already happening with some early Phase II projects.
"We're so impressed with the level of success that our Phase II teams are achieving," Morgan said. "It's still so early for U-LINK to have achieved these impacts. Clearly, the teams are generating the kind of innovative ideas that result from meaningful interdisciplinary integration—and that funders are interested in."
The winning proposals and teams for U-LINK's newest round of Phase I grants are: 
From Individual to Collective Wellbeing: Smart Technology Ecosystem for Personalized Mood Modulation
Comprising a computer scientist, a musicologist, a research methodologist, a health communication strategist, and a music librarian, this team aims to develop a "smart technology ecosystem" that, taking on the role of a personal DJ, will select and play music to modulate the user's moods. 
Citing anecdotal and other research that shows music can reduce anxiety and stress, induce sleep, and soothe depressive disorders, the team plans to develop a smart device app that processes the user's electroencephalogram (EEG) signals and plays professionally composed music and sounds to adjust the mood reflected by their brain activity.
"This project capitalizes on the power of emerging technologies to enhance individual and collective wellbeing," the team wrote in its proposal. "We truly believe that our work will greatly improve the overall wellbeing of individuals currently coping with tumultuous environments and turbulent societies, and in turn will create more connected and healthy communities."
Team members include Ching-Hua Chuan, research associate professor in the Department of Cinema and Interactive Media, and Soyoon Kim, assistant professor in the Department of Communication Studies, both at the School of Communication; Juan Chattah, associate professor in the Frost School of Music Department of Music Theory and Composition; Soyeon Ahn, professor in the School of Education and Human Development Department of Educational and Psychological Studies; and Amy M. Strickland, music librarian.
---
Augmented Reality for Applied Behavior Analysis—Evaluations, Creations, and Applications
This team is exploring how augmented and mixed reality could transform interventions for people on the autism spectrum who have difficulty learning everyday life, safety, or employment skills, like washing their hands, crossing the street, or sorting merchandise.
Members believe that by using virtual or augmented reality to simulate the real world people with an Autism Spectrum Disorder have to navigate, therapists could resolve the shortcomings of Applied Behavior Analysis (ABA), which uses scientific principles to decrease problem behaviors that interfere with learning and social functioning. But ABA interventions are not only costly and labor intensive, they impart skills in highly controlled environments, which don't equate with mastering skills in the real world. Team members believe that virtual and augmented systems could resolve that problem by, for example, placing trainees on simulated streets that are true to life in every way but the danger.
"Virtual and augmented systems are capable of creating realistic approximations of real-world conditions that would allow ABA intervention to conduct training on important skills in ways that…have never been possible before,'' the team wrote in its proposal. Which "makes this a very new, unexplored domain of research that has the potential to help solve a large societal problem and change the lives of individuals with autism around the world."
Team members include Mohamad Hammam Alsafrjalani, assistant professor in practice and Mohamad Abdel-Mottaleb, professor and chair, both of the Department of Electrical and Computer Engineering in the College of Engineering; Kim Grinfeder, director of the Interactive Media Program in the School of Communication; Anibal Gutierrez, associate research professor and associate director of the University of Miami-Nova Southeastern University Center for Autism and Related Disabilities (UM-NSU CARD) and Yanerys Leon, research assistant professor and assistant director of UM-NSU CARD; and Vanessa Rodriguez, research librarian with Learning and Research Services.
---
Characterization and prevention of hazardous occupational noise and its negative health consequences
This team ultimately hopes to prevent what members describe as the "under-diagnosed, under-monitored, under-reported condition" of noise-induced ear damage that, despite being "completely preventable and avoidable" affects hundreds of millions of people around the world. 
As the team said in its proposal, hearing loss is no longer a condition related to aging or genetics, but thanks to ever-increasing exposures to occupational and recreational noise, the third most prevalent chronic health condition after arthritis and heart disease.
Members plan to collaborate with Sylvester Comprehensive Cancer Center's Firefighter Cancer Initiative, the Parkland-Coral Springs Fire Department, and the Miami VA Healthcare System's audiology program to characterize the risk factors of hearing loss for people in high-risk occupations, like firefighters and the military, and to identify content for preventative and therapeutic programs.
As the team noted, existing noise prevention programs are inadequately enforced or poorly adhered to and usually address only high-level noise, even though "a critical mass of evidence points to the long-term damage'' that repetitive low- and moderate-level noise exposure causes to the inner ear.
The team includes Hillary Snapp, chief of audiology and associate professor of otolaryngology, and Natasha Schaefer Solle, research assistant professor in medicine, both at the Miller School of Medicine; Suhrud Rajguru, associate professor in the Departments of Biomedical Engineering and Otolaryngology; Barbara Millet, assistant professor of cinema and interactive media at the School of Communication; Uzma Khan, associate professor of marketing at the Miami Herbert Business School; and Zsuzsanna Nemeth, head of the Learning, Research, and Clinical Information Services at the Miller School's Calder Library.
---
Developing Integrated Solutions for Sustainably Feeding the World, Improving Coastal Water Quality, and Building Resiliency in Coastal Communities
This team aims to address the myriad challenges that the growing aquaculture industry faces as it strives to fill the demand for seafood at a time when overfishing, climate change, and environmental degradation threaten the world's marine resources.
As the team proposal says, "Nearly half of the world's human population relies on the oceans for their primary source of food, yet experts agree that wild food production capacity of the oceans has plateaued and will likely decline in coming decades."
By identifying, developing, and testing integrated farming systems and species for aquaculture development along the Gulf of Mexico and Caribbean coastlines, the team hopes to begin tackling the regulatory, biological, economic, political, engineering, and health challenges that may stand in the way. For example, they note that different locales will have different engineering requirements to withstand the elements and remain affordable and efficient.
"Through innovation, interdisciplinary collaboration, and stakeholder engagement, the results of this project will have far-reaching impacts not only in the University of Miami's region of the Caribbean and Gulf of Mexico, but also throughout Latin America and in tropical coastal communities around the world," the team wrote.
Team members include John Stieglitz, research assistant professor, Daniel Benetti, professor, and Daniel O. Suman, professor, in the Department of Marine Ecosystems and Society, and Brian K. Haus, professor in the Department of Ocean Sciences, all at the Rosenstiel School of Marine and Atmospheric Science; Michael Touchton, assistant professor in the Department of Political Science in the College of Arts and Sciences; Daniel E. Rothen, research assistant professor and clinical veterinarian at the Miller School of Medicine; and Angela C. Clark, librarian associate professor and head of the Rosenstiel School Library.
---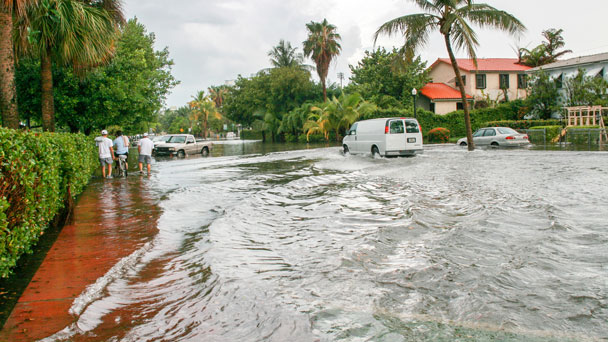 On the Move: Climate Migration and Retreat in South Florida, the Caribbean, and Beyond
Consisting of a climate scientist, artist, lawyer, economist and law librarian, this team plans to inform and facilitate the discussions that will lay the groundwork for the pragmatic policies needed to support the migration and retreat of communities in South Florida, the Caribbean, and beyond that are affected by rising seas.
Members plan to combine their respective expertise in managed retreat, community engagement through participatory art, economic investment and trade analyses, and policy and legislation to ensure that future policies equitably manage the exposure of people and assets in a changing climate.
"Exposure to climate risks—that is, people and assets in harm's way—is a major problem that will increase in severity over the years and decades to come," the team's proposal said. "Under scenarios of continued high emissions of greenhouse gases, 4-13 million people in the United States will face risk of permanent inundation due to sea level rise by 2100, with potential for displacement of 72–187 million people globally over this time frame."
Team members include Katharine Mach, associate professor in the Department of Marine Ecosystems and Society at the Rosenstiel School; Xavier Cortada, professor of practice in art and art history in the College of Arts and Sciences; Natalie Barefoot, director of the Environmental Justice Clinic at the School of Law; Ian Wright, assistant professor in the Department of Economics at the Herbert Business School; and Nicholas Mignanelli, librarian assistant professor at School of Law.
---