Standard issue for NASA engineers during the Apollo missions, the slide rule had no fancy knobs, buttons, or switches. But trailblazing mathematician Katherine Johnson wielded the simple-looking tool—it resembled a wooden ruler—with immeasurable power, using it to calculate the lunar module's trajectory to the moon.
Today, the slide rule—a mechanical analog computer used to quickly multiply, divide, and compute logarithms and other functions—is an engineering relic. 
John L. Anderson, the current president of the National Academy of Engineering (NAE), still displays one in his office as a reminder, one might say, of a bygone era when pocket calculators, digital computers, and smartphones didn't exist.
While that era is long gone, engineering has changed for the better. And on Friday, as part of the University of Miami's College of Engineering symposium Global Challenges Addressed by Engineering and Technology, Anderson and a group of other elite scholars charted their discipline's remarkable history, from its slide rule days to the current high-tech age in which scientists are doing everything from experimenting with advanced materials to cure diseases to creating devices that can detect virus-carrying aerosols. 
"This gathering of academics and engineering partners, and the bold and innovative lessons that result from today's conversations, will have relevance and a potential impact on communities around the globe," said President Julio Frenk.
Held in recognition of the college's 75th anniversary, the daylong conference also marked Miami Engineering Day as proclaimed by Miami-Dade County Mayor Daniella Levine Cava.
During Anderson's keynote address, he said the landmark 1955 Grinter Report, which urged universities and colleges to incorporate more science into engineering, helped bring about a sea change in the way engineers are trained. "Then, we saw big changes between 1970 and today. And two major changes—computer science and biomedical engineering—changed the whole landscape [of engineering]," he stated.
Today's engineers, Anderson told students, have a chance to accomplish even more profound changes in the field. He encouraged them to create. "You're doing something new. You're creating a process, a product, a system, something that didn't exist before. It's not just about problem-solving," he said. "One important thing to remember is that [the word] engineer is actually a verb. It's an action verb. It's goal orientated."
Academic and infrastructural changes now underway at the College of Engineering will help students accomplish those goals, said dean and renowned aerosol scientist Pratim Biswas. "We've embarked on several strategic initiatives addressing global challenges in a collaborative manner," said the NAE inductee. "We're working not only collaboratively with our engineering faculty across departments but also with our colleagues across various schools and colleges and with our outreach partner."
The college is marking its 75th year with monthly events such as a recent clean energy symposium and autonomous mobility workshop; and soon, joint projects in health engineering and aerosol science and technology will be announced, according to Biswas.
Frenk and Jeffrey Duerk, executive vice president for academic affairs and provost, echoed Biswas's remarks. Specifically, Frenk singled out the new Center for Aerosol Science and Technology in which faculty members from the college and the Rosenstiel School of Marine, Atmospheric, and Earth Science are conducting research on understanding the formation, growth, and transport of fine particulate matter.
Duerk noted the new Bachelor of Science in Innovation, Technology, and Design created by the College of Engineering in partnership with the Miami Herbert Business School; the Rosenstiel School of Marine, Atmospheric, and Earth Science; and the School of Law. 
"About 40 percent of that curriculum is offered by industry-curated design experiences and internships," said Duerk, a former dean of the School of Engineering at Case Western Reserve University. "The challenge we gave the faculty across these programs was to think about what the future of a university degree will look like and to come up with something new."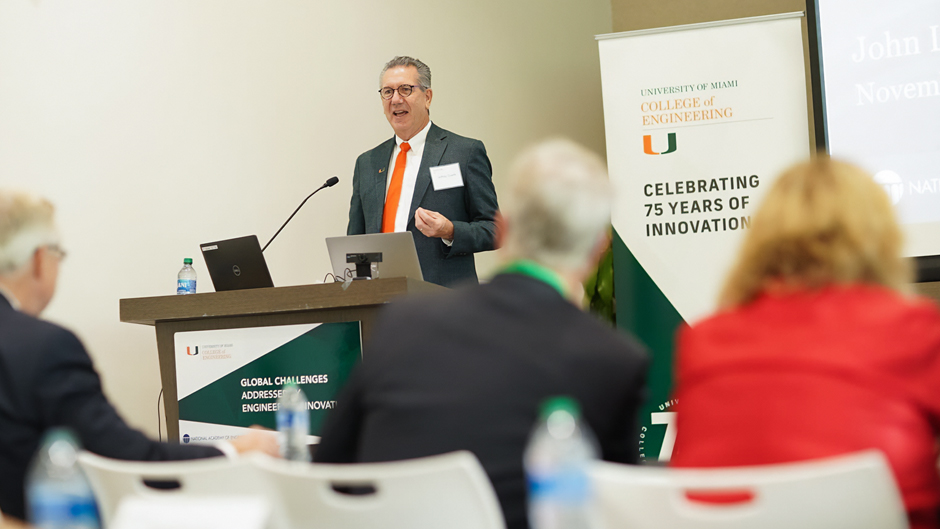 Duerk noted the college's new one-year accelerated Bachelor of Science in Software Engineering, created in part to respond to the rapid migration of the tech industry to South Florida. He also praised the college's dedicated alumni. One of them, longtime benefactor Edward Dauer, who holds two degrees from the college as well as a medical degree from the Miller School of Medicine, recently published a book commemorating the college's 75th anniversary.
In his keynote address, Anderson cautioned students on the unintended consequences of some discoveries, citing examples of innovations that were initially thought to be beneficial but later turned out to be harmful to the environment.
The late mechanical and chemical engineer Thomas Midgley Jr., for example, played a significant role in developing leaded gasoline, which was completely phased out for on-road vehicles when health problems from lead became known.
In 1930, working with a team of other scientists, Midgley also invented some of the first chlorofluorocarbons used as refrigerants. "Before Freon, people were using things like ammonia as a refrigerant. It was dangerous in the house because it leaked," Anderson said. "On the chemical side, [Midgley] inhaled Freon and breathed it out, and then he used it to put out a fire. So, what could be better than this? Well, it eats a hole in the ozone layer. Now, that would have been tough for him to see at the time. Unfortunately, he died before people found out these negatives, so he died thinking he'd done two great things." 
So, engineers, Anderson said, must also be aware of social awareness. 
In other symposium highlights: 
Atmospheric chemist Kimberly Prather, a Distinguished Professor in the Department of Chemistry and Biochemistry at the University of California San Diego—whose work focuses on how human emissions are influencing the atmosphere, climate, and human health—gave a talk on "Advances in our Understanding of Bio-Aerosol Sources and Transmission Pathways."

Prather helped lead efforts to acknowledge COVID-19 as an airborne virus and pushed for simple ways to mitigate its spread. "We cook our food so that we don't eat pathogens, but we're somehow okay breathing pathogen-laden air. This just doesn't make any sense," she said during her presentation. "I hope someday we'll be able to say, 'Wow, that was crazy.' The simplest device is in something we pitched as a short-term patch, which is still out there. Now, California's just endorsed them, these small filters called Corsi-Rosenthal boxes that you can build yourself for $70."
Via a Zoom link from India, Raj Reddy, the Moza Bint Nasser University Professor of Computer Science and Robotics in the School of Computer Science at Carnegie Mellon, spoke about "Digital Babel Fish: A Universal Translator of Spoken Languages." 


Holden Thorp, editor in chief of the Science family of journals, presented "Standing up for Science and Engineering: How Science Lost America and How to Get it Back."


Deborah Nightingale, University Distinguished Professor in the Department of Industrial Engineering and Management Systems at the University of Central Florida, highlighted "A Holistic Approach to Architecting and Transforming Large Scale Systems."


Two University of Miami researchers gave brief presentations on their work. Sakhrat Khizroev, a professor of electrical and computer engineering, who holds a secondary appointment in the Department of Biochemistry and Molecular Biology at the Miller School, discussed his work in intelligent materials that can unravel the mysteries of the brain. And Alice Tomei, an associate professor of biomedical engineering and the director of the Islet Immunoengineering Laboratory at the Diabetes Research Institute, addressed immuno-engineered platforms for type 1 diabetes.
---