It's that time of year. Leaders in business and technology will descend on the Miami Beach Convention Center this Thursday and Friday for the 2023 eMerge Americas conference. 
As a Titanium Sponsor of the event, the University of Miami will display several research and technological innovations. Attendees will be able to listen to an array of keynote speakers, including Academy Award-winning filmmaker Phil Lord and seven-time Super Bowl winner Tom Brady.
Read more about the innovations the University of Miami has on display at Booth 537:
Health displays at eMerge Americas use new technology to help patients
HairWare device to help break down barriers in health care
Ved Chirayath is on a mission to map the world's oceans
On site? View the eMerge 2023 agenda so you do not miss University presenters on the Main, Texpert, and Launch Pad stages throughout the conference.
Check back throughout the event for updates from the Miami Beach Convention Center.
---
Friday, April 21, 7:20 p.m.
eMerge panel examines the future of flight 
Two minutes before an afternoon eMerge Americas panel on autonomous mobility was scheduled to start, three of the participants had already taken their seats inside the Miami Beach Convention Center, preparing tell all they knew about the technology behind electric vertical take-off and landing (eVTOL) aircraft. 
But one seat remained empty. 
GeCheng Zha, a professor of mechanical and aerospace engineering at the University of Miami's College of Engineering, was still making his way toward the Texpert stage, his commute from the Coral Gables Campus to Miami Beach taking one hour because of bumper-to-bumper traffic. 
Had Zha been piloting or been the passenger in an eVTOL, the car "would have taken off vertically, flown like a drone, and landed right next the convention center," College of Engineering Dean Pratim Biswas, who moderated the panel, said to an audience of about 50 people. 
"So, Dr. Zha, you'd never be late again," Biswas said as the panelists chuckled. 
While his remark may have elicited laughter, it was a comment intended to point out the benefits of what he hopes will be the future of transportation. 
"Just imagine an ambulance rushing a patient to our [UHealth Tower] hospital," Biswas said. "You don't want to be [hampered] by traffic. You want to get the patient to the hospital as quicly as possible. This technology is going to enable that and save lives." 
The college he leads recently launched an initiative that will help make that a reality. 
The new Miami Engineering Autonomous Mobility Initiative (MEAMI) consists of a consortium of academic, industry, and government partners that are developing next-generation eVTOL aircraft and flying cars. 
Building on research funded by the Defense Advanced Research Projects Agency, the National Science Foundation, NASA, and others, MEAMI includes such partners as Eve Air Mobility, Aeroauto, and Ryder System as well as nonprofit entities like The Beacon Council. The Departments of Energy, Education, and Transportation support the endeavor, Biswas pointed out. 
"We need to really lean into this technology," Matthew Land, who leads government relations and public policy at Eve Air, said during the 30-minute panel. "eVTOL will be an additional form of transportation. It is not meant to compete with existing forms, but it is meant to provide another safe and reliable method for you to get from point A to point B."
Going back to the earliest helicopters, vertical and short takeoff and landing aircraft have existed for decades. But many of those craft use a tiltrotor system to achieve lift and propulsion, Zha said. 
He and his team are developing second-generation technology that make eVTOL craft much more efficient. With so-called co-flow jet airfoil technology, "we don't need to rotate the propeller. The propeller faces forward," explained Zha, noting that such technology produces safer and quieter aircraft. 
The right infrastructure is needed to support such vehicles, said Qingda Yang, professor and interim chair of mechanical and aerospace engineering. If hundreds of such vehicles were in the air, an efficient communication network would be needed to manage such heavy traffic. "We are going to have high-powered artificial intelligence to integrate instantaneously all this information and send out commands [for which vehicle] goes where," he said. 
But before eVTOLs become widespread, such vehicles will need to be "piloted before we can move to autonomous operations," said Land. "The FAA is working on a pathway for us to have the regulations in place so that these first aircraft will be certified in probably early 2025, or sometime in '25."  
Palm Beach County-based Aeroauto is not only involved in the sale of eVTOLs but is also developing the infrastructure to support such craft, said the company's president and CEO, Sean Borman. 
"Before the first cars, it was all horses and no roads, just some trails and some dirt access to where the horses would go," he said. "Years later, the infrastructure isn't just where can you take off the land from, it's service stations, dealerships, parking areas, gas stations, roads, highways. Everything that cars need today, the flying cars, the eVTOLs are going to need in the future. So, we are helping to create that environment."
—Robert C. Jones Jr.
---
Friday, April 21, 6:45 p.m.
Photos from Day 2
University of Miami engineering senior Joy Jackson describes the device she designed and created, called HairWare, to improve EEG readings for people with textured hair.
Visitors explored the University of Miami display during the second day of the eMerge Americas event at the Miami Beach Convention Center.
University of Miami President Julio Frenk checks on Harvey, the world's first cardiopulmonary simulator that was created more than 50 years ago by Michael S. Gordon at the Miller School of Medicine and has been in use in hundreds of institutions, and in close to 70 countries throughout the world, to train learners in the health field. Harvey is a sophisticated mannequin that can simulate up to 50 heart and lung conditions.
—Photos by Matthew Rembold
---
Friday, April 21, 5:15 p.m.
How are emerging digital tools impacting media?
A cadre of media specialists debated how new tools such as ChatGPT are shifting the media business and landscape.
Harry McCracken, a global technology editor with Fast Company, Kaio Philipe, an administrator with Bloomberg Línea, and Sarah Kopit, editor-in-chief of The Block, participated on the panel, "The Role of Media in the Emerging Digital Ecosystem." Felice Gorordo, CEO of eMerge Americas, moderated the session.
"ChatGPT is a tool like everything—you'd be foolish not to use it," said Kopit, "But it has to be heavily scrutinized, and I'm not sure how much time it saves at this point. The applications are vast. We're very excited about it."
Her company, which tracks the digital assets landscape, is using it and generating polices regarding its use.
"It's here, and folks are using it, so you have to decide how you want it to be," Kopit said. "It can do more than write stuff, but they were very generic and vanilla."
Kopit said she fed the artificial intelligence chatbot her own bio to see what information it would generate, and the outcome was surprising.
"I would love to work or have worked for the Associated Press or The New York Times, but I never have," she said. "Chat generated a lot of false information."
"These new features and new tools make our life better, but it's important that people know how to leverage them—your business model certainly cannot rely on them," noted Philipe.
Kopit suggested that the tools would fuel a trend in the media landscape between large, billionaire-owned media outlets, and small, local news sources and newspapers.
"Really high-quality journalism is very expensive to produce, so there's a high dichotomy that's growing between big outlets and the small ones that will rely more and more heavily on ChatGPT like tools that just generate content," she said.  
As regards a possible TikTok ban, McCracken said that the concern that a China-based and owned company wields such influence is very warranted.
""There's a lot of ruckus about it, but it's not addressing the actual problem that we should be thinking about," McCracken said. "And there's certainly a duality where you have legislators who are calling for it to be banned—the same ones who use it to engage voters.
"A lot of politicians don't understand it—and they should be paying more attention to the technologists who do in order to address the problem in a calm and measured fashion," he added.
—Michael R. Malone
---
Friday, April 21, 2:55 p.m.
Frenk: 'Technology works best in blended modalities'
In a panel that explored technology as a driver for higher education, University of Miami President Julio Frenk highlighted one of the most important lessons learned from the pandemic—that technology works best when combined with human interaction.
"Technology works best in hybrid—or blended—modalities where you combine the use of technology with human interaction to enhance the classroom experience," Frenk said. "We should never confuse connectivity with connection. Connectivity is what technology gives you, and connection is what happens when we're all together."
Frenk urged attendees to visit the University's conference kiosk to view an ideal example of this blended mode: the Harvey System. As mannequins did previously albeit in far more limited fashion, this medical simulator operates on a virtual reality platform that allows first responders and health professionals to learn from their mistakes while avoiding harm to patients.
For the session "Catalyzing Higher Education in the Americas," Frenk was joined by Julian Rodriguez, rector of Universidad Austral in Argentina, and Diego Quiroga, rector of the Universidad de San Francisco de Quito in Ecuador, both university members of the Hemispheric University Consortium, a collaborative initiative spurred in large part by the University of Miami.   
Felicia Knaul, director of the University's Institute for the Advanced Study of the Americas, moderated the panel.
Knaul acknowledged the technological advances prompted by the pandemic, but questioned what should or could be done to avoid creating wider gaps in access to technology, worsening social inequalities or other risks.
"We need to make sure that we use technology to enhance the educational experience in an integrative comprehensive way, not as a separate set of tools that can be applied without much thought," Frenk responded.
Knaul noted that members of the consortium met in person for the first time since the launch of the pandemic to share ideas.
"We have similar concerns throughout the Americas," Quiroga said. "Sharing these experiences between members of the consortium creates the opportunity that is going to be changing the future of education in Latin America."
"Big data analysis is transforming the way we provide services, and this is an incredible opportunity for universities," Frenk added. "The more that we do this together, the higher the likelihood that we will learn from each other."
Frenk shared that the University is experimenting in areas of innovation in education and recently launched a new three-year B.A. in innovation technology and design. 
"This is meta innovation—an innovation in education itself," Frenk said. "It's a different way of packaging according to pedagogical principles so that education will fuel innovation in every other sector."
—Michael R. Malone
---
Friday, April 21, 1:30 p.m.
High schoolers learn how a remote sensing tool can help save coral reefs   
The last time Cyntia Roig snorkeled in the Florida Keys with her family, she was stunned to see how some of the corals that make up the third-largest coral barrier reef system in the world had lost their vibrant colors and turned completely white. 
"It was a brutal wakeup call," Roig said. "I grew up learning about coral reefs and how important they are as underwater ecosystems. To see the discoloration that had occurred was alarming." 
The 18-year-old Roig was referring to the way coral bleaching events caused by rising ocean temperatures have impacted not only the Keys reef tract but also others in oceans around the world. 
Friday, at the eMerge Americas technology conference on Miami Beach, she was ecstatic to learn about an invention of a University of Miami researcher that is now playing a crucial role in helping coral reefs survive. 
"This is totally cool," said Roig, as she and her classmates from the School of Advanced Studies (SAS), a nationally recognized program in which students complete the last two years of high school while attending Miami Dade College, crowded around the MiDAR device on display at the University's exhibit space inside the Miami Beach Convention Center. 
As the small lights on the circular-shaped MiDAR flashed in random patterns, Roig learned that the tool, when mounted onto a drone that flies above water, uses high-intensity LED and laser light pulses to map and transmit 3D images of the sea floor in remarkable detail and at incredible depths. 
Invented by Ved Chirayath, the G. Unger Vetlesen Professor of Earth Sciences at the Rosenstiel School of Marine, Atmospheric, and Earth Science, MiDAR was recently used to conduct multispectral mapping of corals in Guam. Along with his other creation, the FluidCam, which sees through ocean waves, MiDAR has the potential to assess the health of coral reef ecosystems as well as assess the effects of climate change on coastal areas. 
Eighteen-year-old SAS senior Karsten Chima, who recently learned that he's been accepted by the University of Miami, said Chirayath's MiDAR imaging tool inspires him. "I want to create new technology in the field of chemistry," said Chima, who is conducting research to improve the energy transfer in solar panels. 
"Seeing something like this helps me realize just how much the oceans are changing and what we're doing that harms them," said SAS senior Luis Garcia-Praslin, 18, as he looked at MiDAR and listened to Cameron Hallett, an undergraduate research assistant in Chirayath's lab, explain how the device works. "It also showed me what we need to do to make things right."  
—Robert C. Jones Jr. 
---
View this post on Instagram
Thursday, April 20, 9 p.m.
Day one in photos
—Photos: Joshua Prezant
---
Thursday, April 20, 6:25 p.m.
Flick on your flow state
As a pitcher with the St. Louis Cardinals, Anthony Shew knew he didn't possess the physical prowess of some of his teammates, so he focused—really focused—on strengthening his mental game.
After four years with the Cardinals, Shew decided to take his talents elsewhere—not to another team, but instead to working as an engineer developing software. And he brought the mental skills he honed on the baseball diamond to his new field.
Shew, a content engineer these past six years, shared his insights with an audience of computer developers and attendees at the React Miami 2023 mini-conference—a component of eMerge Americas—in his talk "On-Demand Flow State: A Framework for Mental Performance."
"I want to share some tips on how you can turn your flow switch on and off like a light switch," Shew told the audience. "The flow state isn't something abstract, it's about consistently getting all those last drops and moving into higher levels of what you're able to do."
Mihaly Csikszentmihalyi, a Hungarian American psychologist, first championed the idea and has written extensively of "flow," and Miami Heat Coach Pat Riley applied the concepts successfully with his championship team. Shew was intent on sharing the insights with developers to up their game and preempt the possibility of burnout.
In his presentation, he showed a picture of a lioness hunting for prey to demonstrate the qualities of the flow state: assertiveness, volition, concentration, calmness.
"Look into the shoulders, there's an attention there, but it's not tension, and there's a calm in her whole body," he said.
The framework he offered—customizable, adaptable, portable, gentle to learn—was similar in many ways to the codes the developers strive to generate.  
Shew shared microroutines—physical gestures that are quick and meaningful—that are geared to induce the flow state. For him, four taps on the keyboard with his thumb are how he programs his mind that it's time to settle in and get to work.
He shared the "DCBA" checklist—the mental programming—that he was taught as a ball player. "Decide"—be specific about the task you're about to undertake; "clear"—your mind of distractions; "breathe"—take deep breaths and center; and "act"—get to it.
Developing a meditation and mindfulness practice have been extraordinarily helpful for him, he shared, and they don't need to be complicated or long.  
"There's so much that's outside of our control, but these are things you can control," Shew said. "It starts with us. It's important to think about thinking, learn how to learn, and for us to talk about these healthy behaviors instead of waiting for burnout to happen.
"The flow state isn't something abstract. It's about consistency and can just be about getting your work done faster so you can play more video games. But it's a healthier way to be."
—Michael R. Malone
---
Thursday, April 20, 4:10 p.m.
Undergraduate student researcher passionate about the ocean 
Cameron Hallett spent the day stationed at the MiDAR display at Booth 537, explaining the Multispectral Imaging, Detection, and Active Reflectance device to anyone who approached and inquired about the flying device.
A junior studying marine science and computer science, Hallett also works as an undergraduate research assistant for Rosenstiel professor Claire Paris, professor in the Rosenstiel School of Marine, Atmospheric, and Earth Science, and Ved Chirayath, director of the Aircraft Center for Earth Studies (ACES) at the school. 
At eMerge, he explained to booth-goers the work that ACES does as a lab, the technologies that they've been developing, and the innovations that they as researchers are excited to see continue to develop.
Originally from New Hampshire, Hallett always knew he wanted to study the ocean—and he wanted to do it somewhere warm. 
"The University of Miami has one of the best marine science programs in the world, and I really couldn't think of a better place to come and study it," he shared. "I walked out on the pier [at the Marine Campus] for the first time and I said, 'This is where I'm going.' I just fell in love with the school." 
Throughout the first day of the eMerge tech event, Hallett was doing his part to "get people excited about the technology and about how we study the ocean." 
Even during the last hour of his shift, his energy was infectious.  
"I love that the work is challenging," he said of his lab work experience at the Rosenstiel School. "I love that it impacts in a very real way something that I'm passionate about, which is the ocean and ocean conservation. I love being able to learn from a huge variety of different people who have an enormous number of skills." 
He also enjoys the challenge of it. It's exciting, he said, "to come into the school and know that day I'm going to be doing something difficult, something that makes me really have to think." 
Hallett will spend his summer at the ACES lab and will also join the lab's field mission to Guam.
—Text: Megan Ondrizek
—Photo: Mike Montero
---
Thursday, April 20, 2:30 p.m.
Hemispheric University Consortium Social Ideas Challenge
Jeffrey Duerk, executive vice president for academic affairs and provost at the University of Miami, took the LaunchPad Stage to emcee the finale of the HUC Social Ideas Challenge. More than 60 students representing colleges and universities throughout the Americas participated in the competition, which encouraged the students to adopt an entrepreneurial mindset to solve socio-environmental challenges as outlined by the United Nations Sustainable Development Goals. 
Joining in the conversation were Angela Maria Camacho, president of the board, Colombian American Chamber of Commerce; Carolina Rendeiro, CEO, Connect2Global and honorary consul of Portugal; and Claudia Serrer, trade commissioner of Chile, ProChile Miami. 
The participating students represented institutions throughout the hemisphere and are identifying solutions to key challenges facing not only the hemisphere, but the entire globe, Duerk said. 
The HUC, whose president is University President Julio Frenk, was formed at eMerge Americas five years ago.
—Megan Ondrizek
---
Thursday, April 20, 1:55 p.m.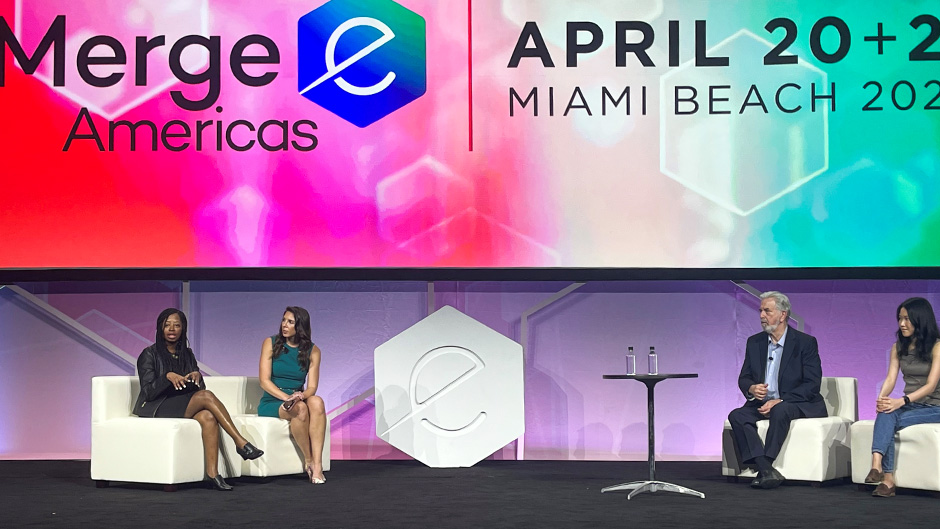 AI Technology Race Is Not the 'Hunger Games'
Ken Goodman, the director of University of Miami Ethics Programs, urged competitive cooperation to generate effective regulation and to advance artificial intelligence in a way "that's best for everybody."  
For the midday panel at eMerge Americas, "The Interaction of Ethical AI and Machine Learning: Social Equity and Good Business," Goodman shared the stage with Angle Bush, founder of Black Women in Artificial Intelligence, and Frost Li, of Social Chat. MacKenzie Sigalos, a technology reporter for CNBC, moderated the conversation.
"We need to figure out how to do AI as an ensemble, this is not the Hunger Games—a competition where someone has to die at the end of the game," Goodman said.  
"This is an opportunity for humanity to use an exciting new tool to improve life for lots of people. We're not all going to get rich on this. The Gold Rush air of this race is worrisome. There are environmental and social consequences to it.
"I don't think 'regulation' is the right word, we might better frame it as competitive cooperation—not about fixing prices or anything—but where we are going to be sharing what we care about in our communities."
The director of University-wide efforts on ethical problems through the Institute on Data Science and Computing (IDSC) and the Institute for Bioethics and Health Policy, Goodman highlighted the need for effective regulation to monitor the breakneck speed of artificial intelligence development.  
"The track record is strong, and we get better outcomes when academia, government, and business get together and do more science. What we're trying to do is ensure that the values that are pretty well shared—and don't let anyone tell you they're not—are being embedded into his research and the applications of the science.
"One of the biggest concerns we all have is how easy it is and, how unfortunately fertile it is, to use some of these tools to the point that it rises to the level of fraud. We're sorting that out as a civil society and having the debate is the most important thing to do. This is not our first rodeo when it comes to a new technology," he said.
"When it comes to a computer program that's going to be guiding a doctor or nurse in a hospital, it is not unreasonable to ask what are the standards that should govern this? And that standard is going to need to have some force behind it," Goodman said.
"That's what we're doing in South Florida with the University of Miami in building and cooperating with other academic institutions," he added. "We're all thinking about those questions. How do we get it right to advance technology and do it without worsening disparities and without introducing problems that we didn't anticipate. There are ways of doing it, and we are working on those."
—Michael R. Malone
---
Thursday, April 20, 11 a.m.
Biomedical engineering student a 'Rising Star'
Erin Ravindran, a senior biomedical engineering student at the University of Miami, is at eMerge Americas today as one of the recipients of the 2023 eMerge Americas' Rising Stars award.
Nominated by her faculty members in the College of Engineering, Ravindran will join a panel discussion with peers from Miami Dade College, Florida International University, Nova Southeastern University, and Florida Atlantic University to share her perspective on technology and its role in the South Florida tech ecosystem.
Miami has grown from a cultural hub into a technology hub, Ravindran shared in her nomination video.
"But the coronavirus pandemic allowed for people to understand the power of remote work. Now people can live in Miami, live in this beautiful place with great food and culture, and can be involved in technology anywhere in the world," she said.
For Ravindran, the integration of artificial intelligence (AI) and health care has been one of the most exciting innovations.
"Because I'm in biomed engineering, I'm focused on the health part of it," she shared. "I've always wanted to make a positive impact on people's health."
Ravindran and two of her peers at the College of Engineering, Joy Jackson and Kailyn Nuñez, are currently creating a respiratory monitoring system for babies in Neonatal Intensive Care Units.
Their project will be on display at the College of Engineering Senior Design Expo on May 2.
A native South Floridian, Ravindran will pursue a master's degree in biomedical engineering at the University of Pennsylvania after she graduates from the University next month.
—Text: Megan Ondrizek
—Photo: Joshua Prezant
---