With the deadly and destructive Hurricane Ida only minutes from making landfall in Louisiana, University of Miami researchers David Nolan and Kurt Hansen raced against time to deploy weather devices that would measure the cyclone's wind speed and direction. 
"We were far enough inland that we were only getting rain and gusty winds," Hansen said. But still, he admitted, the experience was a bit harrowing. 
Like firefighters racing into danger, he and Nolan, professor and chair of the Department of Atmospheric Sciences at the Rosenstiel School of Marine and Atmospheric Science, had traveled to Louisiana to place various instruments directly in Ida's path to collect the critical wind and storm surge data that could one day help save lives. From Galliano to Raceland, they positioned anemometers and other sensors on the ground and near levees in those communities, sheltering in place in a New Orleans hotel when the storm hit. 
"Our hotel lost power and water, the roofed leaked quite a bit, and fallen trees nearly blocked our way out," recalled Hansen, a Ph.D. student in professor Sharan Majumdar's lab. "We had planned to fly out of New Orleans, but we had to drive to Tallahassee to catch a flight out." 
For Hansen and Nolan, their research trip to Louisiana to collect data on Ida was the highlight of the 2021 Atlantic hurricane season, which ended Nov. 30. The final tally: 21 named storms, seven of which were hurricanes, with eight storms making a U.S. landfall.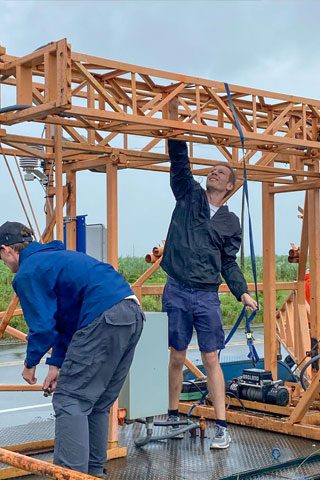 The 21 named storms marked the third-most for any hurricane season, behind 2020's record 30 storms and the 28 that formed in 2005. And for the second year in a row, the season exhausted the entire list of storm names on the National Hurricane Center's naming list. 
"The 2021 Atlantic hurricane season was significant no matter how you count it," said Brian McNoldy, a senior research associate and tropical cyclone expert at the Rosenstiel School. "It had a large number of storms, it accrued a lot of accumulated cyclone energy, and it was very costly. It is the sixth consecutive season with well-above-average activity, something that has never happened before in the historical record, which dates back to 1851." 
But it is Ida for which the season will be remembered. The ninth named storm of the season, Ida made landfall as a dangerous Category 4 storm on the anniversary of Hurricane Katrina. Ida knocked out electrical power to millions of customers and caused devastating flooding that killed 95 people in the U.S., from Louisiana to New York. 
The storm caught some forecasters off guard, transforming from a Category 2 cyclone to a monster hurricane with 145-mile-per-hour winds in just a few hours. 
The storm's rapid intensification, however, didn't surprise Lynn "Nick" Shay. A professor of ocean sciences and associate dean of research at the Rosenstiel School, Shay had witnessed storms bulk up to monstrous levels before. Through his pioneering research, he knew that enormous circular pools of warm water called eddies can supercharge storms. And in the case of Ida, that is precisely what happened, said Shay, who, using satellite imagery, had been watching one particular eddy very closely in the days leading up to Ida's U.S. landfall. 
In all, Shay deployed about 100 storm-monitoring devices to measure different scientific aspects of Ida, and the data will be used to assess the thermal structure along Ida's track and in the large warm eddy the storm encountered. 
"It's important to note that the eddy that Ida encountered had deeper isotherms and higher ocean heat content than we have previously observed," said Shay, who is producing a scientific paper on the phenomenon. 
He and his team are well prepared for next hurricane season, having already repaired and upgraded profiling floats that measure temperature, salinity, current, and pressure at depths as deep as 6,000 feet. 
The busy 2021 Atlantic hurricane season provided ample research opportunities for other Rosenstiel School scientists as well, including Quinton Lawton, a Ph.D. student in atmospheric sciences, who studies how atmospheric waves interact with one another to influence hurricane formation. 
He is specifically interested in one type of wave called a Kelvin Wave. "Ongoing research has indicated that these waves can make hurricane formation more likely after they pass through the Atlantic," Lawton explained, noting that studying such waves could help improve hurricane forecasts. 
"There were several hurricanes that formed this year after the passage of large Kelvin Waves," he said. "Scientists were able to collect data on the formation of these hurricanes using satellites and other observational platforms, and this has provided me with more cases to investigate why these large-scale atmospheric waves make hurricanes more likely to form." 
If anything, Miamians and all Floridians will remember 2021 as another year the Sunshine State was largely spared the catastrophic storm impacts other U.S. states experienced. And luck, said McNoldy, was one of the reasons for that. 
"In any given year, whether it's relatively quiet or hyperactive, there's a chance that one or more storms will impact our area. But there is no way of knowing ahead of time what the season will bring to us," McNoldy said. "Looking back, 56 hurricanes have passed within 100 miles of Miami in the past 171 years, which is an average return period of one every three years. That does not mean we should expect one every three years, though. There are multidecadal oscillations in activity, and interannual changes in the largescale steering patterns. So, some years we get more than one, and sometimes we go five to 10 years without one. If we focus the distance down to 50 miles, the return period increases to one every 5.7 years." 
But there is no concept of being overdue for a storm strike, McNoldy said. "Hurricanes don't have knowledge or memory of what previous hurricanes did a month ago, let alone five years ago," he said. 
The Rosenstiel School experts responded to additional queries about the 2021 season.
When asked about the number of storms that rapidly intensified this season and if that rapid intensification was attributable to warm-water eddies, and if climate change played a role, Shay responded. 
"It's unclear whether the deeper isotherm depths and rising ocean heat content are due to climate change or oceanic thermodynamics. One also has to be careful with regard to mesoscale atmosphere and ocean interactions during rapid intensity change. Warming could be contributing to it—we just do not know how much in the two fluids," he said. 
"This is why we monitor the changes daily throughout the year from space,'' he added. "What is clear is the Loop Current warm core eddy surface signature that energized Ida was about 70-75 cm compared to more typical values of 55-65 cm in the Gulf of Mexico. With a 22-year evaluated time/space series from satellite missions, we are looking into this carefully with the various merged in-situ data sets including sea surface temperatures," he continued. "Except for the northern Gulf of Mexico shelf water that Ida went over prior to landfall, the sea surface temperatures stayed fairly warm in the Gulf through most of October.'' 
Pointing out the fact that the season had a dearth of activity in October, but ended quietly, to McNoldy, he admitted that "the season did essentially shut down in the first week of October, which makes the overall levels of activity that much more impressive. It is not obvious why it shut down so early, as many of the typical environmental parameters continued to look favorable for development," he noted.
"Subjectively, it seems that there was actually a lack of incipient disturbances from which storms could form," he added. "In other words, we did not have fledgling systems fail to develop—we barely had fledgling systems. But I do not yet have a great answer to why that was the case."
---